Commentary
After Bills Player Collapses on Field During 'MNF,' America Comes Through to Support Him in $3 Million Way
In 2020, during his time at the University of Pittsburgh, football player Damar Hamlin started a toy drive for children in need.
It was a modest success. An Internet Archive version of the page from December of 2022 showed that over $2,900 had been raised, more than the initial goal of $2,500.
"As I embark on my journey to the NFL, I will never forget where I come from and I am committed to using my platform to positively impact the community that raised me.  I created The Chasing M's Foundation as a vehicle that will allow me to deliver that impact," the GoFundMe page read.
Advertisement - story continues below
"This campaign gives you the opportunity to contribute to our first initiative and positively impact children who have been hardest hit by the pandemic.  100% of the funds raised will go toward the purchase of toys for kids in need."
Hamlin would go on to the NFL and was drafted by the Buffalo Bills in 2021. On Monday night, during a game against the Cincinnati Bengals, the safety collapsed on the field after a hit to the chest.
CPR was administered and he was driven off the field in an ambulance.
The game was suspended; players for both the Bills and Bengals openly wept on the gridiron, hands clasped in prayer.
Advertisement - story continues below
The league announced Hamlin was in critical condition.
The Bills would later confirm early Tuesday morning that Hamlin had suffered cardiac arrest and that, while his vital signs had been restored, he was sedated and remained in critical condition at the University of Cincinnati Medical Center, according to CNN.
Is the NFL doing enough to protect its players?
The injury was inarguably one of the most shocking televised moments in modern sports history. Not only did Hamlin's heart stop on the field, it happened on a nationally broadcast "Monday Night Football" game between two of the strongest teams in the NFL, with major playoff implications.
Those who weren't watching the game soon doubtlessly saw notifications on their phones that Hamlin had been gravely hurt and tuned in, hoping for word that he was OK.
If that word is to come — and we pray that it is — it wasn't to come on Monday night. Not only did that leave NFL fans, be they serious or casual, with a sense of grim uncertainty, it also left them with a sense of tragic helplessness. In times like this, those affected want to do something. The outcome is out of our hands, obviously, but the natural impulse is a desire to help.
Advertisement - story continues below
And Americans found a way. They discovered Damar Hamlin's 2020 GoFundMe toy drive — which, as it happens, had never been closed out. They responded in a $3 million manner.
Again, while it's unclear how much money had been raised at the beginning of the night, an archived version from just a month ago shows that only $2,921 had been raised — and almost all of the most recent donations listed on the captured Dec. 2022 page were from over a year-and-a-half prior.
Advertisement - story continues below
Another archived snapshot of the page, this one from 10:07 p.m. Eastern, shows the toy drive at $245,965; Hamlin's injury happened at 8:55 p.m. Eastern, as per CNN. (Note: Archive.is uses UTC, or Universal Time, a global time standard that uses a 24-hour system. 3:07 UTC corresponds to 10:07 p.m. Eastern.]
The snapshot above, showing the number over the $3 million mark, was taken shortly after 2:30 a.m. Eastern. As of about 8 a.m. Eastern, the page showed more than $3.3 million in donations.
For the most part, this was organic — although Jordon Rooney, a sports marketing rep identified as a close friend of Hamlin's by ESPN's Ian Rappaport, directed those wishing to show their support to Hamlin's toy drive.
Please keep Damar in your thoughts and prayers.

Please refrain from speculation and contacting his family/friends if you aren't close to them.

Ppl asking to donate – There's a gofundme floating around from Damar's toy drive /back to school drive if you want to support.

— Jordon Rooney (@jordonr) January 3, 2023
Advertisement - story continues below
Most of the recent donors offered thoughts and prayers to Hamlin and those around him along with their donations.
"I pray that your body heals fully and completely. We believe in the power of prayer and there are so many prayers for you tonight. From a Raiders/Bills family. #Billeve #billsmafia #raidernation," one wrote, referencing the nicknames for the respective fanbases of the Buffalo Bills and Las Vegas Raiders.
"praying for u bro, thank u for being a positive force on and off the field," another wrote.
Advertisement - story continues below
"Chiefs fans praying hard and pulling for you young man," a third donor said.
Indeed, if there was one theme from the night, it was that fans from across the league were coming out to support Hamlin no matter what team they root for.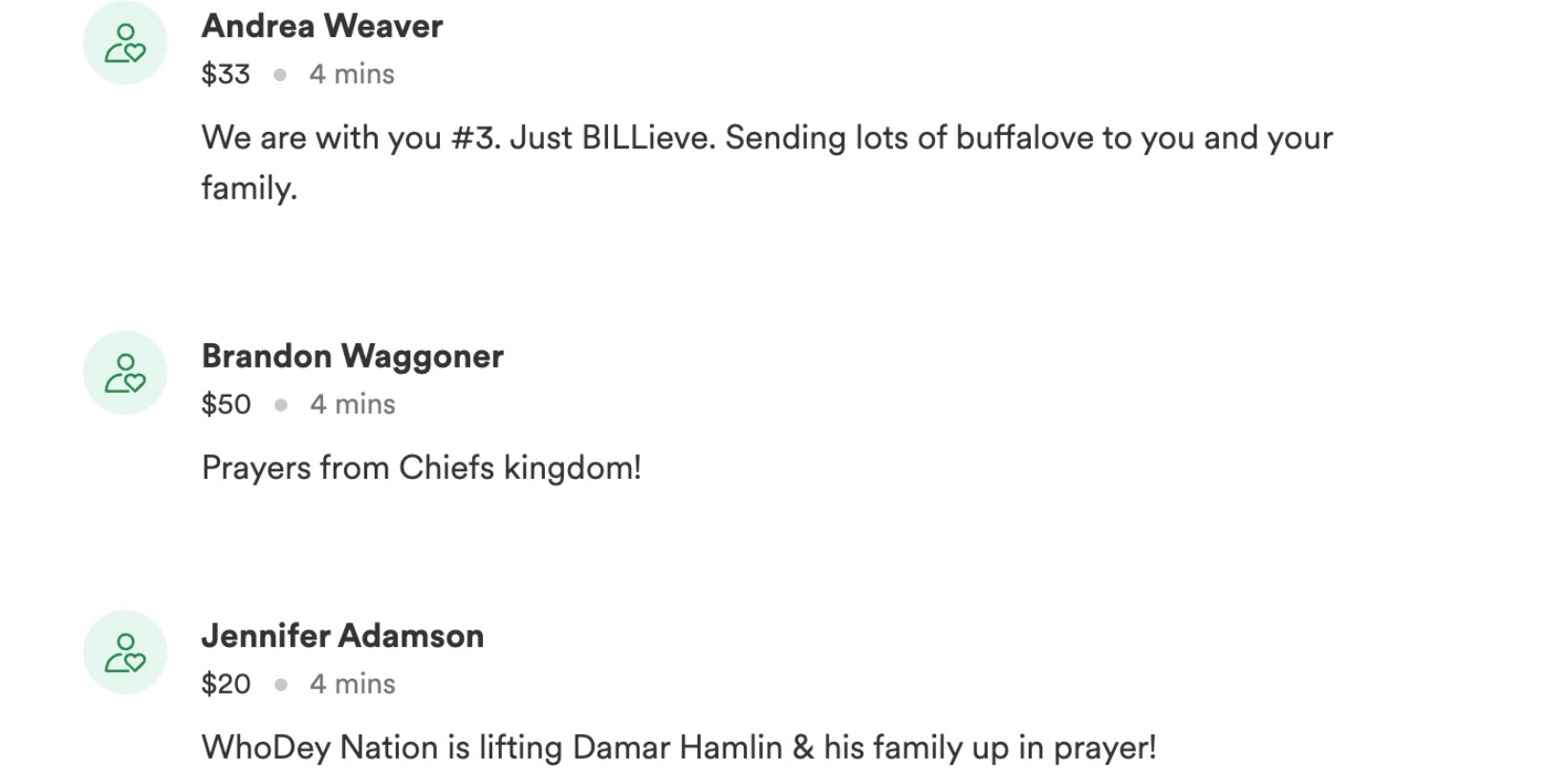 The donations should serve as a reminder of the essential decency inside us. Yes, we may be a sinful and selfish and divisive lot, and tomorrow we'll all go back to squabbling about this or that. For a moment, at least, a whole lot of us united in thought and prayer — not just for a young man, but for the cause he represents.
Advertisement - story continues below
Let this be a $3 million reminder to anyone who thinks America and humanity at large are both beyond saving: The impulse toward the Good is within us all, buried though occasionally it may be.
This article appeared originally on The Western Journal.
Truth and Accuracy
We are committed to truth and accuracy in all of our journalism. Read our editorial standards.
Comment Down Below
Conversation