News
Birx Suggests the Election 'Distracted' the Trump Admin From COVID-19 Response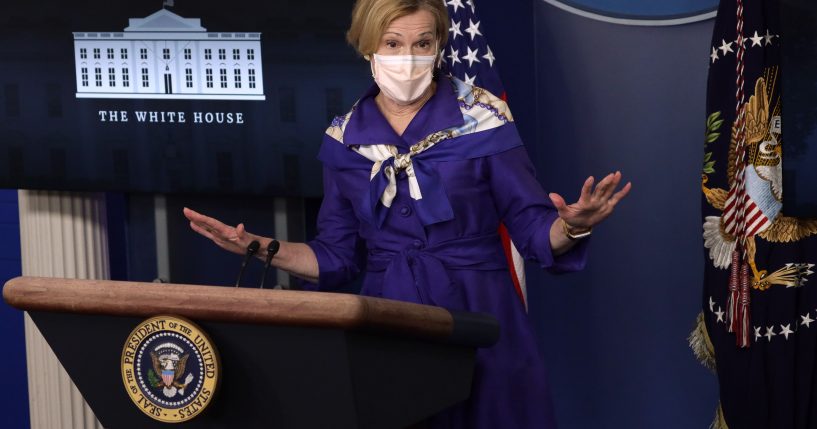 Dr. Deborah Birx says the Trump administration was "distracted" by the 2020 election, taking time away from addressing the COVID-19 pandemic.
The House Select Subcommittee on the Coronavirus Crisis released excerpts from her testimony earlier this month.
During the exchange with the former White House COVID-19 response coordinator, the subcommittee mentioned an interview Birx had with CBS's "Face the Nation."
Advertisement - story continues below
"You mentioned the election several times, including remarking, quote, 'The worst possible time you could have a pandemic is in a presidential election year.' And you also noted, quote, 'It was difficult in the run up to the election,'" the subcommittee said.
Birx was then asked what she meant by that. She replied, "Well, even across the country, the governors and mayors and others that were campaigning, as well as the White House that was campaigning, just took people's time away from and distracted them away from the pandemic in my personal opinion."
She argued "they were actively campaigning and not as present in the White House as previously."
The subcommittee asked Birx if the former president did everything he could to save lives.
Advertisement - story continues below
"Do I think that we could have done more on unified messaging coming out of the White House? Do I think we could have done more on — very early on showing the efficacy of masks? Yes," Birx said.
She continued, "And I think that would have decreased the confusion. Could we have done more to understand people and the adult people's reaction to adult immunizations? Yes. We could have been doing that with the flu vaccine. We could have known precisely who our hesitant vaccinators were and we could have been prepared to combat that."
When asked again if Trump did everything he could, Birx explained, "No. And I've said that to the White House in general, and I believe I was very clear to the President in specifics of what I needed him to do."
The total number of COVID-19 related deaths in 2020 reached 352,000.
Truth and Accuracy
We are committed to truth and accuracy in all of our journalism. Read our editorial standards.
Comment Down Below
Conversation