News
Blinken Warns Putin Ahead of US-Russia Summit 'Aggressive, Reckless Actions' Will Not Be Tolerated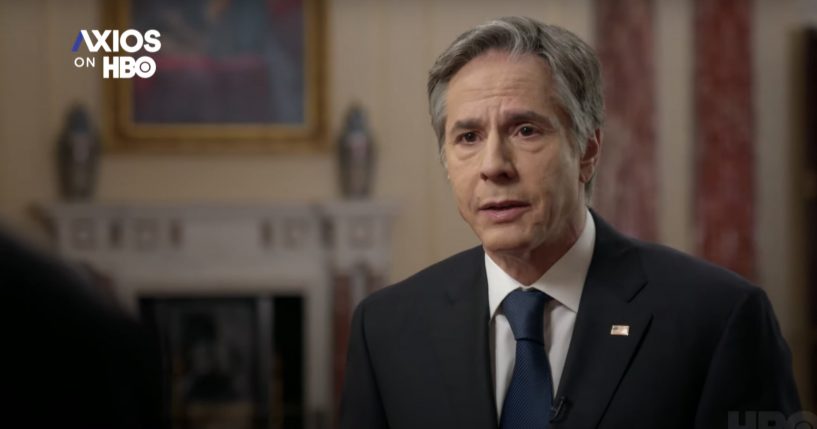 U.S. Secretary of State Antony Blinken says President Joe Biden will reveal to Russian President Vladimir Putin what he can expect if "aggressive, reckless actions" toward the United States continue.
During an "Axios on HBO" interview, Blinken said Biden is meeting Putin "not in spite of" the cyberattacks that have affected the meat and gas supplies in the United States, but "because of them."
According to Blinken, Biden will tell Putin "directly and clearly what he can expect from the United States if aggressive, reckless actions toward us continue."
Advertisement - story continues below
He also told Axios the United States "would prefer a more stable relationship" with Russia.
Blinken continued, "I can't tell you whether I'm optimistic or not about the results. I don't think we're going to know after one meeting, but we'll have some indications … We're prepared either way."
The secretary of state also touched on the investigation behind the origins of COVID-19.
Watch part of the interview below:
Advertisement - story continues below
"We have to get to the bottom of what happened. There's accountability, but from my perspective, the most important thing and the most important reason we have to get to the bottom of this is that's the only way we're going to be able to prevent the next pandemic or at least do a better job in mitigating it," Blinken explained.
The president will meet with Putin on June 16 to discuss "the full range of pressing issues," according to White House Press Secretary Jen Psaki, as IJR reported.
Sergei Ryabkov, Russia's deputy foreign minister sent a warning to the United States ahead of the meeting.
"The Americans must assume that a number of signals from Moscow … will be uncomfortable for them, including in the coming days," he said.
Advertisement - story continues below
During a Memorial Day service in Delaware, Biden sent a warning of his own, as IJR reported.
"I'll be meeting with [Russian] President [Vladimir] Putin in a couple weeks in Geneva making it clear that we will not stand by and let him abuse those rights," Biden said.
Truth and Accuracy
We are committed to truth and accuracy in all of our journalism. Read our editorial standards.
Comment Down Below
Conversation