News
Bob Dole: I'm a 'Trumper,' but 'He Lost' and I'm 'Sort of Trumped Out'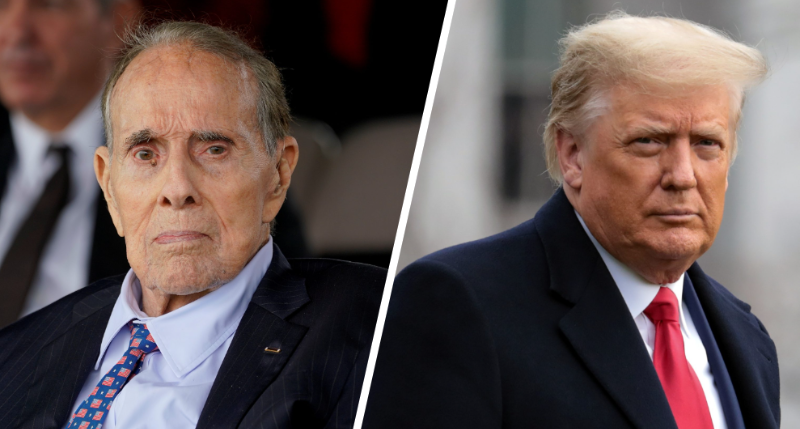 Former senator and Republican presidential nominee Bob Dole, one of former President Donald Trump's earliest establishment supporters, says he is "Trumped out."
During an interview with USA Today, Dole, 98, spoke about the 2020 presidential election and declared that the former president lost the election fairly.
"He lost the election, and I regret that he did, but they did," Dole told the outlet. "He had Rudy Giuliani running all over the country, claiming fraud. He never had one bit of fraud in all those lawsuits he filed and statements he made."
Advertisement - story continues below
The former senator labeled himself a "Trumper," however, he also said, "I'm sort of Trumped out."
Trump has alleged that widespread fraud cost him his reelection bid. However, dozens of lawsuits filed by his campaign and allies failed to reverse the outcome of any of the states he lost.
During an interview with reporters from The Washington Post, Trump asserted that there was evidence to support his claims but that the lawsuits failed because "I needed better judges."
Dole is not the only Trump supporter or defender to dismiss his unfounded claims.
Advertisement - story continues below
Last week, former Trump attorney Alan Dershowitz told Fox News' Sean Hannity, " The evidence seems to strongly suggest that it wasn't stolen and that the outcome was right."
"We have to accept the fact that Joe Biden is the President of the United States, he will be the president of the United States until the next election, but we have to make sure that future elections are transparent," he added.
Dershowitz also warned that it is "a very unhealthy thing in a democracy if 30 million, 50 million people don't trust the outcome of an election."
Truth and Accuracy
We are committed to truth and accuracy in all of our journalism. Read our editorial standards.
Comment Down Below
Conversation