Bolton on Tax Report: 'I Would Think Trump Would Be Eager' To Show 'What a Great Businessman He Is'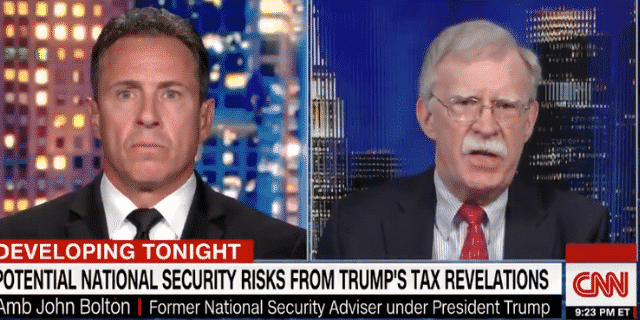 John Bolton, the former national security advisor, is weighing in on the recent report by The New York Times on over two decades of President Donald Trump's taxes.
CNN's Chris Cuomo mentioned part of the Times' report that read, "When he took office, Mr. Trump said he would pursue no new foreign deals as president. Even so, in his first two years in the White House, his revenue from abroad totaled $73 million."
The Times added, "And while much of that money was from his golf properties in Scotland and Ireland, some came from licensing deals in countries with authoritarian-leaning leaders or thorny geopolitics — for example, $3 million from the Philippines, $2.3 million from India and $1 million from Turkey."
The host then asked during Monday evening's interview, "$73 million is a lot of money, just like with the loans, do you think a President of the United States should disclose the source of that kind of income outside of America?"
Bolton responded by saying he personally opposes "a lot of the obligations that are put on all candidates to disclose things like their tax returns, their medical history."
He then suggested, "These are the sorts of things that somebody with Trump's business skills and experience, I would think would be eager to tell the American public to show what a great businessman he is."
Cuomo pushed back saying, "We're not talking economics here," adding, "I would push back a little gently on that by saying if he was such a great businessman he wouldn't have to personally guarantee so many of these loans."
"It is very rigged for somebody who says they have the kind of money and access in leverage that the president does to be personally guaranteeing these types of situations," Cuomo added.
Watch Bolton's interview below:
John Bolton says he'd think Pres. Trump would be "eager to tell the American public" where his income comes from "to show what a great businessman he is."

"His holdings are so varied, his success is so great, why wouldn't he want to tell people what his sources of income were?" pic.twitter.com/8sEmA1OfXW

— CNN (@CNN) September 29, 2020
The Times also reported that Trump paid $750 in income tax in 2016 and in 2017. Additionally, the president allegedly paid no income tax in 10 of the past 15 years, as the report says.
Trump slapped down the report as he claimed on Sunday that it is "totally fake news. Made up, fake."
In response to the report alleging that Trump faces more than $400 million in loans and other debts, House Speaker Nancy Pelosi (D-Calif.) said during an MSNBC interview on Monday, "For me, this is a national security question."
"We take an oath to protect and defend. This president is the commander-in-chief," Pelosi said. "He has exposure to the tune of hundreds of millions of dollars, to whom? The public has the right to know."