News
Brad Pitt Shares Why He Wore a Skirt to the Premiere of His Latest Film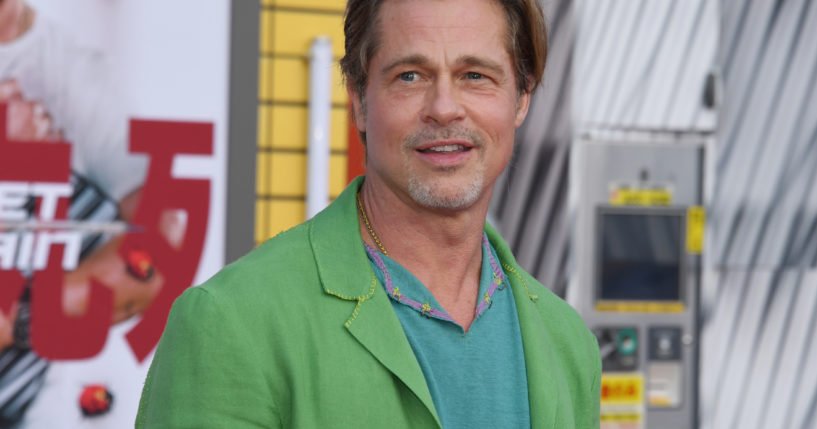 Actor Brad Pitt recently wore a skirt to the premiere of his latest film and is sharing why he made that decision.
Pitt made headlines after a photo circulated showing him wearing a linen skirt.
Check out the photo below:
Advertisement - story continues below
GQ posted this photo of Brad Pitt in a skirt and someone commented "What in the 19th century textile mill hag is going on here" pic.twitter.com/A37isEGfYI

— Laura Bassett (@LEBassett) July 21, 2022
When asked about why he chose to wear the skirt, Pitt told Variety, "I don't know! We're all going to die, so let's mess it up."
This is not the first time Pitt commented on men wearing skirts.
In 2004, while promoting his film "Troy," Pitt explained, "Men will be wearing skirts by next summer. That's my prediction and proclamation. The film answers to both genders. We were going for realism and Greeks wore skirts all the time then."
Advertisement - story continues below
While some praised Pitt for his fashion statement, other critics were not so kind.
Hey Grannies, lock up your clothing closets, Brad Pitt might raid it looking for your skirts. pic.twitter.com/elHXwlTDNJ

— 🇨🇦LOLA🇨🇦 (@justkeeprunin71) July 20, 2022
Was this a good choice for Pitt?
I'm all for wearing clothing no matter it's 'gender' or whatever but Brad Pitt looks like absolute shit in this skirt, someone has to say it. pic.twitter.com/FUiOH5RRVR

— Matt Felsenthal (@TheChowderhead) August 2, 2022
its called a KILT #BradPitt #BulletTrainLeFilm not a fucking skirt

— Angus Macfadyen (@MacfadyenAngus) August 2, 2022
I was going to go see the new Brad Pitt movie.

It's just too much of a stretch to think of him as an action hero when he was just walking around in a skirt.

— Jason Williams (@jrock157000) July 27, 2022
Advertisement - story continues below
During the interview with Variety, Pitt also commented on his latest film "Bullet Train."
The outlet explained that the movie stars Pitt as "a hitman who has to fight his way through a train filled with dangerous killers, played by actors like Bad Bunny, Joey King, Aaron Taylor-Johnson and Brian Tyree Henry."
Touching on the stunt work in the film, Pitt explained, "I try to get out of it. I love a stuntman."
He continued, "This one was action-comedy, something I've never done before. David and I had always been big fans of Jackie Chan. We'd been talking about him for decades. He's kind of our Buster Keaton. He's so talented and underrated even. Just to do something in that direction was what was really appealing to me."
Advertisement - story continues below
The film is expected to be released on Friday.
Truth and Accuracy
We are committed to truth and accuracy in all of our journalism. Read our editorial standards.
Comment Down Below
Conversation