News
Buffalo Bills Quarterback Laughs When Asked About Damar Hamlin Conspiracy Theory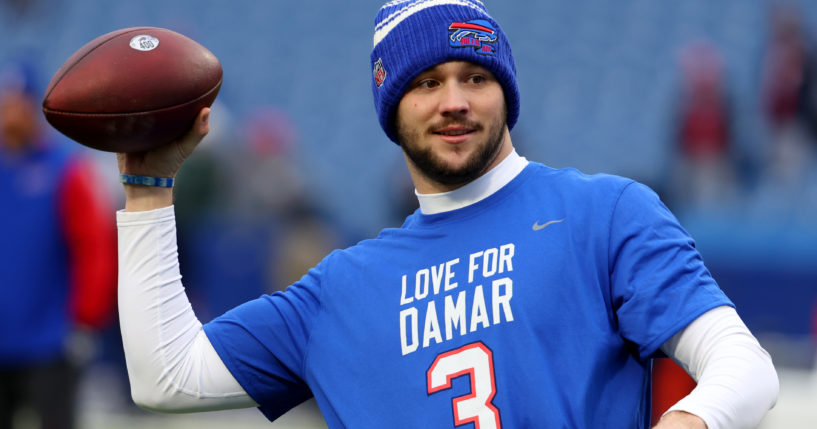 Buffalo Bills Quarterback Josh Allen was asked about a conspiracy theory surrounding the team's safety Damar Hamlin.
During an episode of the podcast "Kyle Brandt's Basement," the host noted outlets are running stories about the conspiracy theory "in which people are suggesting that he was not at the game on Sunday" and that it was a body double.
"Would you like to debunk that conspiracy theory, or maybe confirm it?" he asked Allen.
Advertisement - story continues below
The quarterback replied with a laugh, saying, "Yeah, that's stupid."
When Brandt pointed out Hamlin was seen with his face covered, Allen explained, "One, that's Damar's swag. He likes wearing that."
He added, "Two, he was in the locker room with us pre-game. So, yes that was Damar. There's absolutely zero chance. That's the Damar Hamlin, that's our guy, that's our brother. He was with us pre-game, post-game, he was up in the suite with his family, his little brother, 100%."
Allen concluded, "So, people need to stop that s***."
Advertisement - story continues below
Watch the video below:
.@JoshAllenQB reacts to the "Damar Hamlin body double" conspiracy theory.

🔗: https://t.co/C8MpyK4NfV pic.twitter.com/Cugk8Nd3PV

— Kyle Brandt's Basement (@KBBasement) January 24, 2023
Do you find the conspiracy theory "stupid"?
During the game on Sunday against the Cincinnati Bengals, the team's Twitter account shared a video of Hamlin cheering on the team.
"We're so glad you're here, [Damar Hamlin]," the Bills wrote.
We're so glad you're here, @HamlinIsland. 🫶#LoveForDamar | #BillsMafia pic.twitter.com/rxR7PX7I00

— Buffalo Bills (@BuffaloBills) January 22, 2023
Advertisement - story continues below
Forbes noted rumors began to swirl Hamlin's cardiac arrest he suffered earlier this month was somehow caused by the COVID-19 vaccine.
The outlet explained "the latest anti-vaccination conspiracy theory around Hamlin is that 'they'—whoever 'they' may be— have found a body double for Hamlin to conceal the so-called true nature of what had happened to him."
Renée DiResta, technical research manager at Stanford Internet Observatory, shared what was happening around social media surrounding the theory.
"Oh, Damar Hamlin is trending. Maybe there's some health update." DiResta wrote.
Advertisement - story continues below
She added, "Oh…it's paidchecks tweeting ab how he's actually dead, there's a 'body double; and his fam is 'in on it.'"
Earlier this month, NBC News reported cardiologists suggested a rare phenomenon called "commotio cordis" was to blame for Hamlin's cardiac arrest.
In these cases, "There is nothing wrong with the heart," according to Dr. Hari Tandri, the director of the cardiac arrhythmia program at Vanderbilt University Medical Center in Nashville, Tennessee.
NBC News explained, "A healthy heart, when hit with blunt force at a specific time, Tandri said, can launch into an abnormal and potentially deadly rhythm."
Truth and Accuracy
We are committed to truth and accuracy in all of our journalism. Read our editorial standards.
Comment Down Below
Conversation