News
Buttigieg: Americans That Buy an Electric Vehicle Will 'Never Have to Worry About Gas Prices'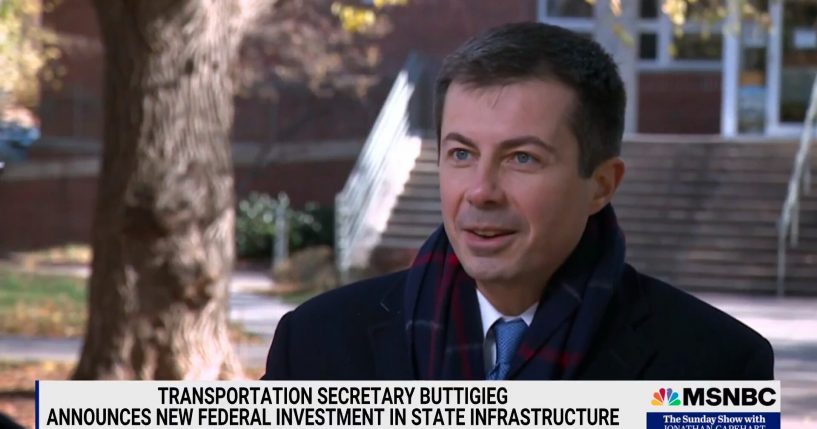 Transportation Secretary Pete Buttigieg says Americans will "never" have to worry about gas prices "again" if they buy electric vehicles.
During an appearance on MSNBC's "The Sunday Show With Jonathan Capehart," Buttigieg pointed out that Democrats' roughly $2 trillion social spending package includes up to a $12,500 "discount" for families who want to buy an electric vehicle.
"Families that once they own that electric vehicle will never have to worry about gas prices again," he said.
Advertisement - story continues below
He continued, "The people who stand to benefit most from owning an EV are often rural residents who have the most distances to drive, who burn the most gas, and underserved urban residents in areas where there are higher gas prices and lower-income."
"They would gain the most by having that vehicle. These are the very residents who have not always been connected to electric vehicles that are viewed as kind of a luxury item," Buttigieg added.
Finally, the Transportation secretary said, "If we can make the electric vehicle less expensive for everybody, more people can take advantage, and we'll be building and selling more American-made EVs, which means over time they'll become less expensive to make and to buy for everybody."
Watch the video below:
Advertisement - story continues below
Buttigieg's comments come after President Joe Biden announced he would release 50 million barrels of oil from the Strategic Petroleum Reserve in a bid to "lower prices for Americans," as IJR reported.
According to AAA, the average price for a gallon of gas nationally is $3.39, up from $2.12 a year ago.
Earlier this month, White House Press Secretary Jen Psaki argued that "the rise in gas prices over the long term makes an even stronger case for doubling down our investment and our focus on clean energy options, so that we are not relying on the fluctuations and OPEC and their willingness to put more supply and meet the demand in the market."
Truth and Accuracy
We are committed to truth and accuracy in all of our journalism. Read our editorial standards.
Comment Down Below
Conversation