Buttigieg: Biden's Plan Will Address 'Troubled History' of Racism in Infrastructure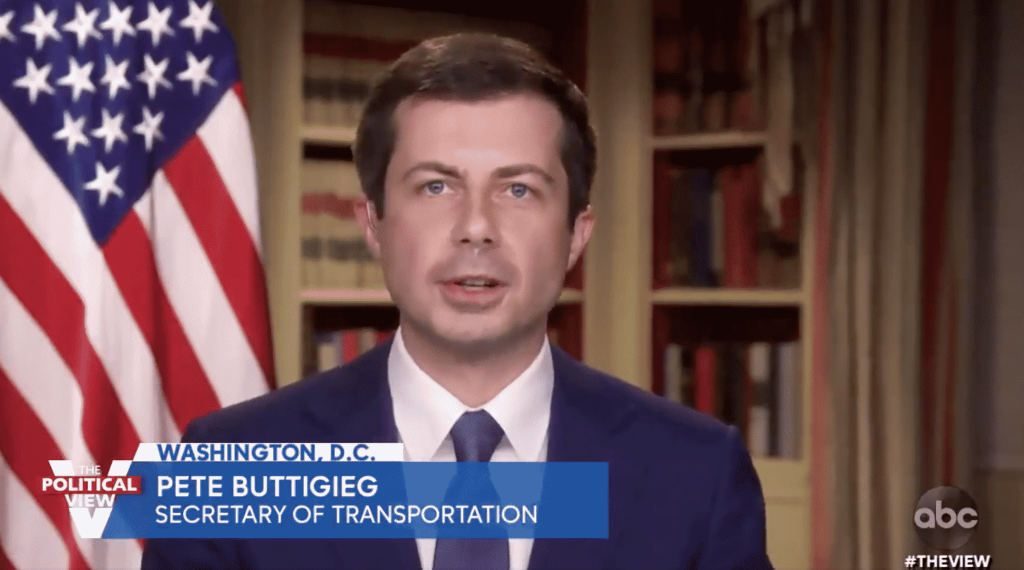 U.S. Transportation Secretary Pete Buttigieg is confident President Joe Biden's infrastructure plan will address the "troubled history" of racism in infrastructure.
During an appearance on "The View" on Friday, co-host Sunny Hostin pointed out communities of color have been "further oppressed" by the infrastructure system in the United States.
She asked Buttigieg, "How will this plan address that issue in a meaningful way?"
Buttigieg explained, "This is so important. There is a troubled history, especially when it comes to highways that were often built through Black neighborhoods, sometimes devastating communities of color. It happened in cities in the north and the in the south."
He noted there are examples of how "highway construction reinforced segregation."
Watch his comments below:
Transportation @SecretaryPete Buttigieg tells @TheView Biden's infrastructure plan offers an opportunity to address the "troubled history" of communities of color being oppressed by the infrastructure system in the past: "We have a chance to do something about that." pic.twitter.com/Pr8wgdL2vj

— The View (@TheView) April 9, 2021
Touching on Biden's plan, Buttigieg said, "One of the things I'm proudest of in the president's American Jobs Plan is that it sets up funding to look at places where a highway or some other transportation policy actually made things worse for communities that have been excluded."
When discussing how the plan is "going to make it better," Buttigieg said it could mean "adding connections to a neighborhood that got divided, whether it means taking a highway that's maybe aging and should be put underground so we can reclaim that space for the neighborhood."
During an interview with theGrio's April Ryan this week, Buttigieg declared "there is racism physically built" into the nation's infrastructure, as IJR reported.
"Well, if you're in Washington, I'm told that the history of that highway is one that was built at the expense of communities of color in the D.C. area. There are stories, and I think Philadelphia and Pittsburgh [and] in New York, Robert Moses famously saw through the construction of a lot of highways," Buttigieg said.
Buttigieg claimed it "wasn't just an act of neglect," instead, it was a "conscious choice."
The president's $2 trillion plan includes $621 billion to rebuild infrastructure, including roads, bridges, highways, and ports. It also provides $213 billion to build and retrofit homes that are affordable and sustainable and billions for manufacturing, the electric grid, nationwide high-speed broadband, and water systems.