News
Buttigieg: 'You Can't Argue' With Biden's 'Extraordinary Accomplishments'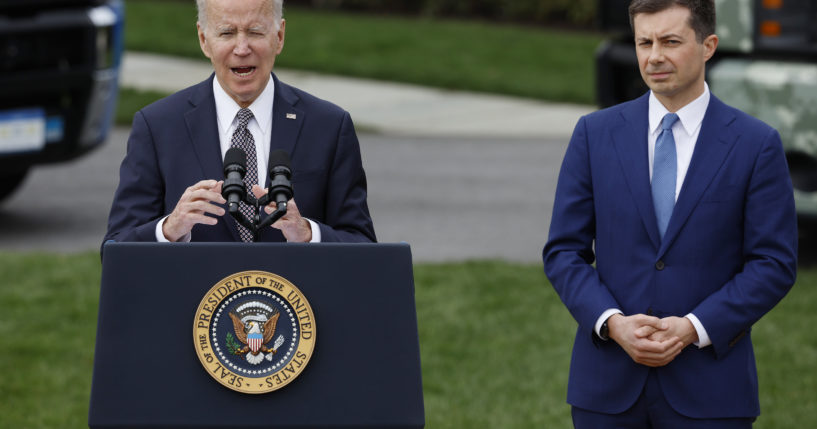 Transportation Secretary Pete Buttigieg praised President Joe Biden for what he believes are "extraordinary accomplishments."
During an appearance on "CNN Sunday," host Jake Tapper noted Biden will be 81 years old on Election Day in 2024.
"Republicans such as Ron DeSantis and Nikki Haley are already seeming to make a generational argument," Tapper explained.
Advertisement - story continues below
He pointed out Buttigieg "made a similar generational argument when you were running against Joe Biden for president yourself."
Tapper asked Buttigieg, "Are you worried that it could work in 2024?"
He replied, "Generational arguments can be powerful. As you said, I've used them myself. The most powerful argument of all is results. You can't argue – at least I would say you can't argue – with a straight face that it isn't a good thing that we have had 12 million jobs created under this president."
Buttigieg went on to suggest "when you look at what America was up against when President Biden took office and what has been delivered, again, just in these first two years of his administration, let alone what's possible as we actually start entering more and more, for example, of the construction phase on the infrastructure law, I think those results are going to continue to accumulate."
Advertisement - story continues below
Acknowledging "people will toss whatever argument they can," Buttigieg told Tapper, "At the end of the day, you can't argue with the extraordinary accomplishments, more than almost any other modern president that President Biden achieved, again, under the toughest of circumstances."
Watch the interview below:
Do you think Biden has achieved a lot during his time in office?
On Monday, The Washington Post, citing a Washington Post-ABC News poll, reported a majority of Americans are not convinced Biden has achieved very much since taking office.
The poll found 62% of Americans said Biden has accomplished "not very much" or "little or nothing" during his time in office.
Advertisement - story continues below
Only 36% believed he has accomplished "a great deal" or "a good amount."
The poll was conducted from Jan. 27 through Feb. 1 and surveyed 1,003 adults.
The survey comes as Biden is set to deliver his State of the Union address on Tuesday.
The New York Times noted Biden wants to use his address to "make the case that government works, citing legislation to rebuild the nation's roads, bridges and broadband, jump-start the semiconductor industry and expand health benefits for veterans, all of which passed on bipartisan votes."
Advertisement - story continues below
Additionally, he plans to discuss defending democracy both here and abroad, per The Times.
Truth and Accuracy
We are committed to truth and accuracy in all of our journalism. Read our editorial standards.
Comment Down Below
Conversation