Buttigieg: It Is 'Very Important' Trump Impeachment Trial Remain Bipartisan in the Senate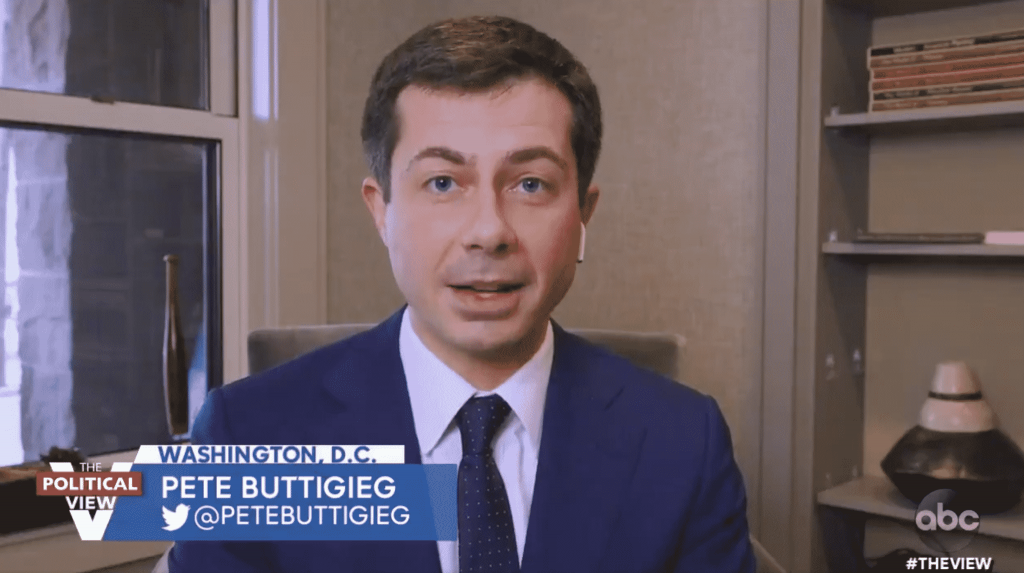 Pete Buttigieg, President Joe Biden's nominee for transportation secretary, is stressing the importance of maintaining bipartisanship during former President Donald Trump's impeachment trial in the Senate.
Co-host of "The View" Ana Navarro noted the article of impeachment against Trump will be delivered to the Senate on Monday and asked Buttigieg if he believes Trump will be convicted.
"I don't know, but certainly what's different this time is you have Republicans and Democrats agreeing on, some Republicans, agreeing with Democrats on this," Buttigieg said.
He added, "I think it's very important that it be bipartisan. Look, accountability is part of unity and that's something the Senate will have to take seriously in addition to all of the other business of the country. It's not a small task, but it's really important for us to be able to move on."
Watch his comments below:
.@PeteButtigieg tells @TheView it's "very important" that the Senate impeachment trial for former Pres. Trump be bipartisan: "Accountability is part of unity… It's not a small task, but it's really important for us to be able to move on." https://t.co/cVclFZQmjA pic.twitter.com/ogMLbXVqkj

— The View (@TheView) January 22, 2021
Senate Majority Leader Chuck Schumer (D-N.Y.) announced on the Senate floor on Friday, "I have spoken to Speaker Pelosi who informed me that the articles will be delivered to the Senate on Monday."
He continued, "The Senate will conduct a trial of the impeachment of Donald Trump. It will be a full trial. It will be a fair trial. But make no mistake, there will be a trial, and when that trial ends, senators will have to decide if they believe Donald John Trump incited the insurrection against the United States."
Pelosi indicated on Thursday during her press briefing she is not concerned about undercutting the message of unity, as IJR reported.
"I'm not worried about that. The fact is the president of the United States committed an act of incitement of insurrection. I don't think it's very unifying to say, 'Oh, let's just forget it and move on,'" she said.
Pelosi explained, "That's not how you unify. Joe Biden said it beautifully, 'If we're going to unite, you must remember,' and we must, we must bring this. And look, that's our responsibility, to uphold the integrity of the Congress of the United States."
Senate Minority Leader Mitch McConnell called on Democrats to delay the trial until February, as IJR reported.