Buttigieg on Trump's Virtual Debate Comments: It Is a 'Reflection of the Weakness of His Campaign'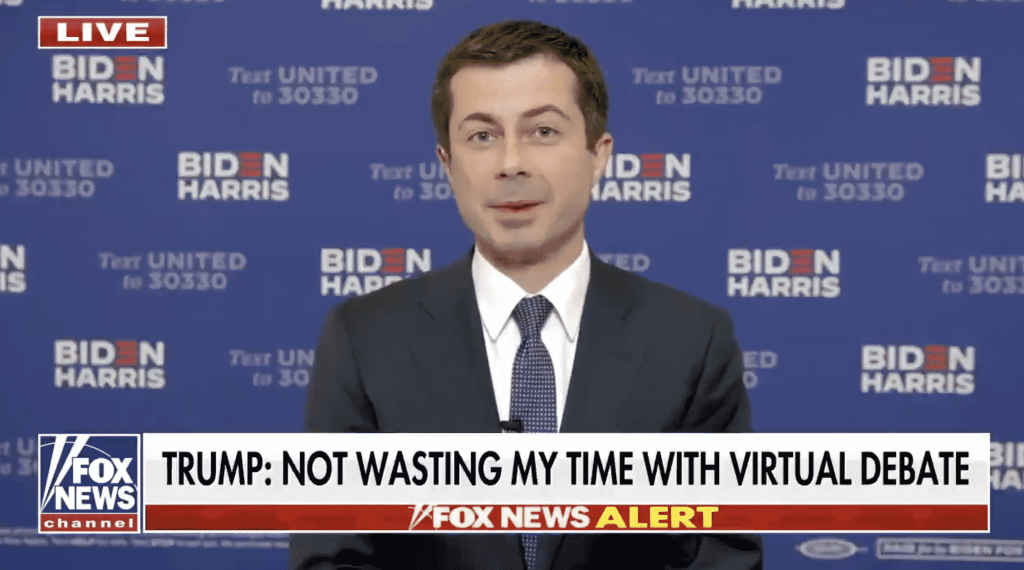 Former presidential hopeful Pete Buttigieg (D) is offering his thoughts on President Donald Trump's refusal to join a virtual debate with Democratic presidential nominee Joe Biden.
During his appearance on Fox News Thursday, Buttigieg argued Trump has repeatedly failed to make safe and healthy decisions amid the coronavirus pandemic.
"I think part of why the U.S. is falling behind, is badly behind the rest of the developed world on dealing with the pandemic is because every time there's been a choice between doing something a way that's more safe or less safe, this president seems to push for less safe," Buttigieg said.
He went on, "I think it's also probably a reflection of the weakness of his campaign. When you see campaigns getting the kind of bad news that he's been getting through this month a lot of times you'll see these kinds of increased arguments over rules, withdrawing from opportunities, a little bit of flailing there."
Watch his comments below:
It's too bad Trump is afraid to debate next week. pic.twitter.com/4juvdgPfE7

— Pete Buttigieg (@PeteButtigieg) October 8, 2020
He suggested Trump "doesn't care about other people" because, as Buttigieg says, the president is willing to expose others attending the debate to COVID-19 after he tested positive last week.
The Commission on Presidential Debates (CPD) announced on Thursday that the second presidential debate would be virtual, as IJR previously reported.
"I'm not going to do a virtual debate," Trump said in response during a Fox News interview. "I'm not going to waste my time on a virtual debate."
Biden's Deputy Campaign Manager and Communications Director Kate Bedingfield released a statement in response to Trump's decision.
"Joe Biden was prepared to accept the CPD's proposal for a virtual Town Hall, but the President has refused, as Donald Trump clearly does not want to face questions from the voters about his failures on COVID and the economy," Bedingfield said.
She added, "As a result, Joe Biden will find an appropriate place to take questions from voters directly on October 15th, as he has done on several occasions in recent weeks."
Bedingfield urged the commission to move the debate to October 22 "so that the President is not able to evade accountability."