Commentary
California Man Reportedly Arrested Near Kavanaugh's House, Wanted to Kill Him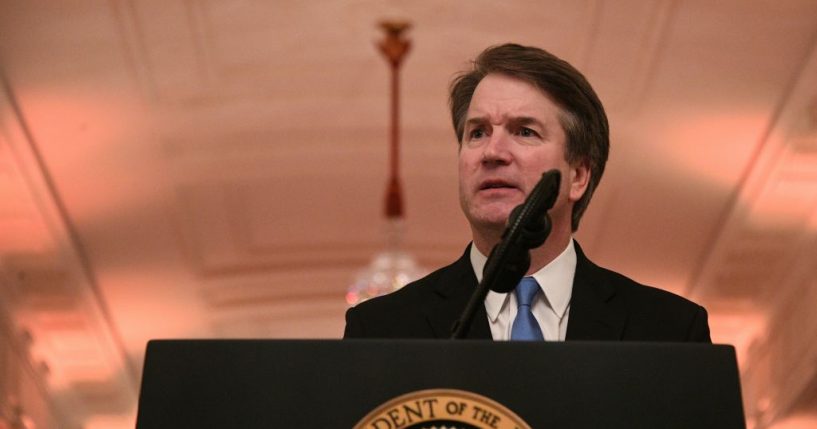 A man has been arrested for reportedly making threats against Supreme Court Justice Brett Kavanaugh.
According to The Washington Post, "A California man carrying at least one weapon near Brett M. Kavanaugh's Maryland home has been taken into custody by police after telling officers he wanted to kill the Supreme Court justice, according to people familiar with the investigation."
"The man, described as being in his mid-20s, was found to be carrying at least one weapon and burglary tools, these people said, speaking on the condition of anonymity to discuss an ongoing investigation," it added.
Advertisement - story continues below
The man reportedly was stopped on a side street near the justice's house.
Patricia McCabe, a spokeswoman for the court, said, "The man was armed and made threats against Justice Kavanaugh."
"He was transported to Montgomery County Police 2nd District," she added.
The Post, citing "two people familiar with the investigation," reports that "the initial evidence indicates that the man was angry about the leaked draft of an opinion by the Supreme Court signaling that the court is preparing to overturn Roe. v. Wade, the 49-year-old decision that guaranteed the constitutional right to have an abortion. He was also angry over a recent spate of mass shootings."
Advertisement - story continues below
BREAKING: Armed man arrested near home of Supreme Court Justice Brett Kavanaugh overnight, officials say. Man told authorities he had planned to kill the justice. @PeteWilliamsNBC reports: https://t.co/W3GRDdEs6M pic.twitter.com/XeQW6viULp

— MSNBC (@MSNBC) June 8, 2022
Politico reported last month that a draft opinion appeared to show that Supreme Court is poised to overturn Roe v. Wade. And Kavanaugh was one of the justices who joined that draft opinion.
Do you think there will be more threats?
Obviously, people are responsible for their own actions and behavior — even if they are straight-up whackos.
But President Joe Biden and the Democrats have done nothing to help defuse tensions around the Court by labeling the draft opinion "radical" and claiming that other rights such as gay marriage could be a risk, or by calling the court "illegitimate."
It's one thing to say that the government disagrees with a ruling and will do everything it can to protect abortion rights.
Advertisement - story continues below
And it's quite another to stir up images of an illegitimate, stolen court stripping rights away left and right.
How else would a crazy person respond to hearing repeatedly that illegitimate justices are taking away rights while Congress appears to be doing nothing?
Every justice on the court was appointed by a duly elected president and confirmed by a majority of the Senate. Democrats and Biden have a responsibility to condemn this incident and bring down the temperature when it comes to the court before things get out of hand.
Truth and Accuracy
We are committed to truth and accuracy in all of our journalism. Read our editorial standards.
Comment Down Below
Conversation