News
Biden Calls Leaked Draft SCOTUS Opinion 'Radical' – Suggests Same-Sex Marriage Could Be in Danger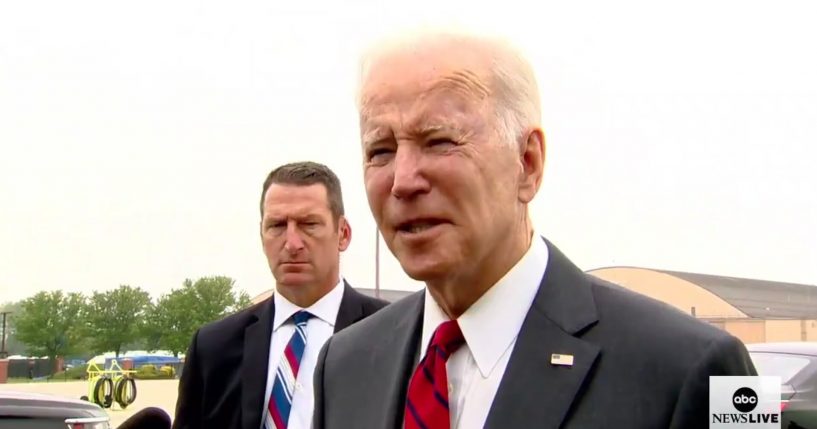 President Joe Biden is suggesting that if a draft opinion of a Supreme Court decision on a major abortion case holds, it could open the door to states passing laws that chip away at other rights.
The president was asked on Tuesday if he believes the leak "has irreparably changed the court."
"Well, you know, if this decision holds, it's really a radical decision," Biden responded.
Advertisement - story continues below
He continued, "The underlying premise — and again I've not had a chance to thoroughly go into the decision — but it basically says all the decisions relating to your private life — who you marry, whether or not you decide to conceive a child or not, whether or not you can have an abortion, a range of other decisions, how you raise your child — what does this do?"
"Does this mean that in Florida, they can decide they're going to pass a law saying that same-sex marriage is not permissible? It's against the law in Florida. So, it's a fundamental shift in American jurisprudence," Biden added.
Watch the video below:
NEW: Pres. Biden says if leaked draft of Supreme Court opinion overturning Roe v. Wade holds, it's "really quite a radical decision."

"It's a fundamental shift in American jurisprudence." https://t.co/GIOGLeqJhb pic.twitter.com/tFZCHyDa7Y

— ABC News (@ABC) May 3, 2022
Advertisement - story continues below
Biden's comments come after Politico published a report based on a leaked draft of an opinion that appeared to indicate the Supreme Court would overturn the landmark Roe v. Wade decision.
In a statement earlier on Tuesday, Biden noted that it was not known "whether this draft is genuine, or whether it reflects the final decision of the Court."
"Shortly after the enactment of Texas law SB 8 and other laws restricting women's reproductive rights, I directed my Gender Policy Council and White House Counsel's Office to prepare options for an Administration response to the continued attack on abortion and reproductive rights," he continued. "We will be ready when any ruling is issued."
Additionally, Biden argued that if the Supreme Court does overturn Roe, "It will fall on our nation's elected officials at all levels of government to protect a woman's right to choose."
"And it will fall on voters to elect pro-choice officials this November. At the federal level, we will need more pro-choice Senators and a pro-choice majority in the House to adopt legislation that codifies Roe, which I will work to pass and sign into law," he added.
Advertisement - story continues below
In case you missed it:
My statement on the reported Supreme Court decision draft. pic.twitter.com/Kt3bP0kzqU

— President Biden (@POTUS) May 3, 2022
The court confirmed the authenticity of the opinion, but said in a statement that it "does not represent a decision by the Court or the final position of any member on the issues in the case."
Chief Justice John Roberts said in a statement, "To the extent this betrayal of the confidences of the Court was intended to undermine the integrity of our operations, it will not succeed. The work of the Court will not be affected in any way."
Advertisement - story continues below
Roberts called the leak a "singular and egregious breach."
Truth and Accuracy
We are committed to truth and accuracy in all of our journalism. Read our editorial standards.
Comment Down Below
Conversation