News
Car Company Expects to Lose Billions on Electric Vehicles in 2023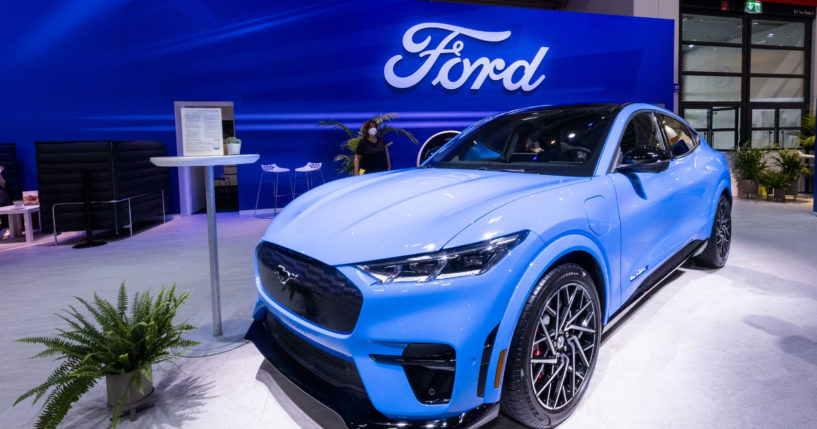 Ford shared the company is anticipating a hefty loss on sales of electric vehicles in 2023 alone.
The Washington Examiner reported on Thursday the company expects it will lose $3 billion.
However, the company does not see the loss being an issue for its 2026 profit goals.
Advertisement - story continues below
The report noted the car company expects the Model e total loss between 2021 and 2023 will come out to roughly $6 billion.
Last year, Ford reported the electric vehicle division losses added up to a whopping $2.1 billion, marking an increase from the $900 million losses reported in 2021, per the Examiner.
Ford CFO John Lawler explained the losses are a result of recent electric vehicle investments, including battery cell factories in two states.
The company's executives have equated the electric vehicle division to that of a startup company.
Advertisement - story continues below
"Startups lose money as they invest in capability, develop knowledge, build volume, and gain share," Lawler said.
Additionally, Lawler believes Ford will have the capacity worldwide to establish roughly 600,000 electric vehicles by the end of the year and two million by the end of 2026.
He said the company intends to "fully use that capacity."
Deutsche Bank analyst Emmanuel Rosner commented on the matter in an investor note, per CNBC.
"The EV business could report much deeper losses than investors expect, which could make Ford's target for 8% EV EBIT margin by 2026 particularly difficult to achieve," Rosner said.
Advertisement - story continues below
The Washington Post noted the auto industry has said it is investing more than $70 billion into electric vehicles in just the United States.
As a result, white-collar workers are uncertain about what that means for their jobs, per the Post.
General Motors has even recently made buyout offers to salaried employees in the United States to cut costs for the transition to electric vehicles, as the newspaper reported.
Truth and Accuracy
We are committed to truth and accuracy in all of our journalism. Read our editorial standards.
Comment Down Below
Conversation