News
Cheney Claims Trump Said Pence 'Deserved' to Be Hanged on January 6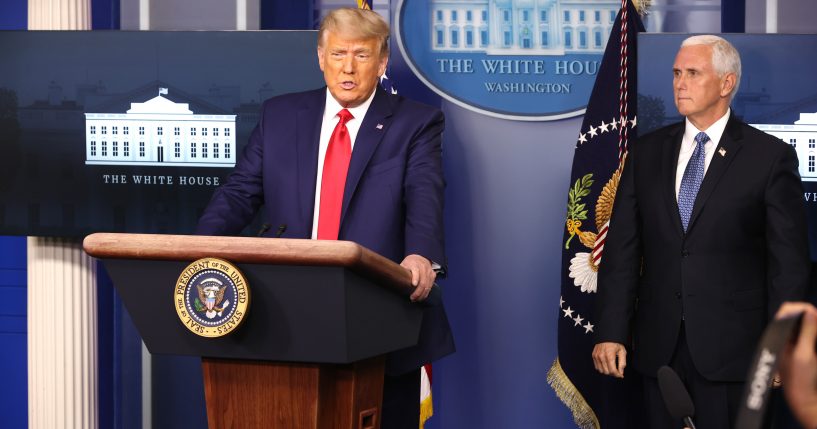 Rep. Liz Cheney (R-Wyo.) claimed former President Donald Trump said January 6 rioters had the "right idea" when they chanted, 'Hang Mike Pence.'"
During the first House select committee hearing on the attack Thursday, Cheney said, "Over a series of hearings in the coming weeks you will hear testimony, live and on video, from more than half a dozen former White House staff in the Trump administration, all of whom were in the West Wing of the White House on January 6."
She added, "You will hear testimony that 'the president did not really want to put anything out' calling off the riot or asking his supporters to leave. You will hear that President Trump was yelling and 'really angry' at advisors who told him he needed to be doing something more."
Advertisement - story continues below
Cheney continued, "Aware of the rioters chants to 'hang Mike Pence', the president responded with this sentiment: 'Maybe our supporters have the right idea'. Mike Pence 'deserves it.'"
Watch her remarks below:
Rep. Liz Cheney, Republican of Wyoming, gave a preview of testimony to be revealed in hearings concerning Donald Trump's actions during the Jan. 6 attack on the U.S. Capitol. https://t.co/WwU1kDet2U pic.twitter.com/KnxhgzcZCO

— The New York Times (@nytimes) June 10, 2022
It was reported that the remark abut Trump's reaction to the Pence chants prompted gasps.
Advertisement - story continues below
Audible noises of gasps inside the room as Cheney relates Trump's words about the Hang Mike Pence chant: "And maybe our supporters have the right idea, Mike Pence deserves it"

— Ben Jacobs (@Bencjacobs) June 10, 2022
The former president posted to his Truth Social platform to speak out against the hearing.
"So the Unselect Committee of political HACKS refuses to play any of the many positive witnesses and statements, refuses to talk of the Election Fraud and Irregularities that took place on a massive scale," Trump wrote.
He added, "Our Country is in such trouble!"
Additionally, during the hearing, Cheney accused Trump of overseeing "a sophisticated seven-part plan to overturn the presidential election and prevent the transfer of presidential power."
Advertisement - story continues below
She explained the committee would present "evidence of each element of this plan."
Committee Chairman Rep. Bennie Thompson closed the two-hour long hearing.
He said the committee will reconvene next week and "examine the lies that convinced those men and others to storm the Capitol, to try to stop the transfer of power."
Thompson added, "We're going to take a close look at the first part of Trump's attack on the rule of law, when he hit the fuse that ultimately resulted in the violence of January 6, without objection."
Truth and Accuracy
We are committed to truth and accuracy in all of our journalism. Read our editorial standards.
Comment Down Below
Conversation