News
Watch: Chris Cuomo Confronted by Fox News Reporter Following His Brother's Resignation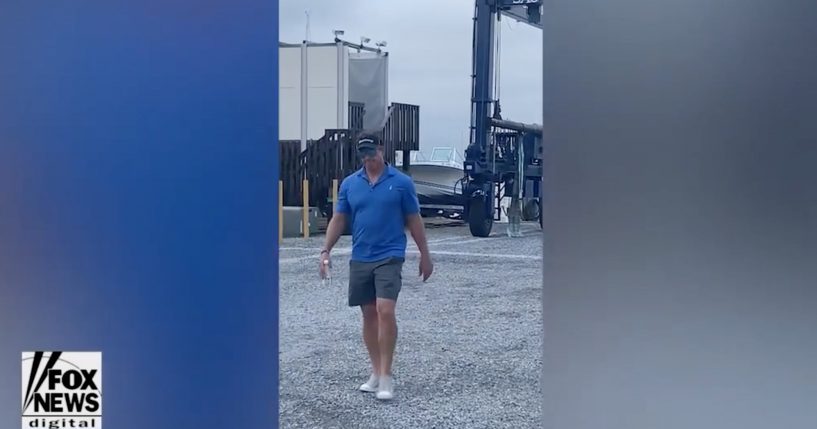 CNN's Chris Cuomo's vacation was interrupted when a Fox News reporter confronted him with questions the same day his brother, outgoing New York Gov. Andrew Cuomo (D), announced he is resigning.
In the video, the reporter can be heard asking Chris Cuomo, "Have you spoken to your brother today, sir?"
The CNN anchor responded, "Yes."
Advertisement - story continues below
When asked if he advised his brother to step down, Chris Cuomo did not respond. The reporter went on, "Are you continuing to advise him? Do you think that's an ethical conflict?"
Chris Cuomo replied, "I think you got a job to do, and I'm lettin' you do it."
The reporter added, "Thank you, sir. Is your brother coming to East Hampton?"
The governor's brother told him, "Yes. If you wait here, he'll be here in five minutes."
Advertisement - story continues below
Proceeding with his questions, the reporter asked Chris Cuomo, "Do you believe the women, sir?" He did not respond and drove away in his truck.
Watch the video below:
Advertisement - story continues below
Andrew Cuomo announced he is resigning on Tuesday after the state's attorney general found that he sexually harassed several women, as IJR reported.
The New York Times reported that Chris Cuomo advised his brother to resign. According to the report, "The anchor concluded last week that his brother could not survive the political maelstrom, as the governor's longtime allies abandoned him and support in the Democratic establishment dwindled."
Earlier this month, the Times also noted CNN "floated the idea" earlier this year that if Chris Cuomo wanted to advise his brother, "he could take a temporary leave from CNN and return to the network later."
New York Lieutenant Gov. Kathy Hochul (D) will step in to take the governor's place. She tweeted, "It is the right thing to do and in the best interest of New Yorkers. As someone who has served at all levels of government and is next in the line of succession, I am prepared to lead as New York State's 57th Governor."
Truth and Accuracy
We are committed to truth and accuracy in all of our journalism. Read our editorial standards.
Conversation