'You Lied To Us': Chris Cuomo Presses Miles Taylor After He Reveals He Was 'Anonymous'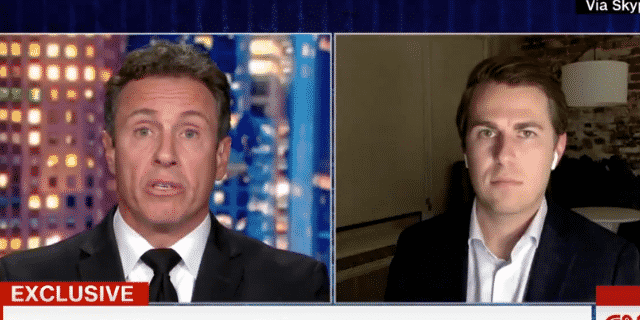 CNN's Chris Cuomo is pressing former Department of Homeland Security (DHS) chief of staff Miles Taylor for previously telling reporters he was not "anonymous" when asked.
Taylor, who penned a 2018 op-ed in The New York Times anonymously, revealed on Wednesday his identity, as IJR reported. He was the chief of staff at the DHS until 2019.
During an interview on CNN Wednesday evening, Cuomo flatly said to Taylor, "You lied to us," adding that he was asked during an interview with CNN's Anderson Cooper in August if he was "anonymous" to which, at the time, he said he was not.
"Why should CNN keep you on the payroll after lying like that?" Cuomo asked. Taylor responded, saying in defense that when he anonymously published his book "A Warning" he noted that "if asked, I would strenuously deny I was the author."
He continued, "And here's the reason because the things I said in that book were ideas I wanted Donald Trump to challenge on their merits. We have seen over the course of four years that Donald Trump's preference is to find personal attacks and distractions to pull people away from criticisms of his record."
"I wrote that work anonymously to deprive him of that opportunity and to force him to answer questions on their merits…The end result is, the president couldn't."
He added that he said no to reporters previously when asked if he was anonymous it was because he "wanted that work to stand on its own two legs and deprive the president of an opportunity to do one more personal attack to distract from his record."
Watch the exchange below:
—@ChrisCuomo to @MilesTaylorUSA: "You lied to us….Why should CNN keep you on the payroll after lying like that?" pic.twitter.com/T4kzZ8zKJM

— Oliver Darcy (@oliverdarcy) October 29, 2020
The New York Times op-ed is titled "I Am Part of the Resistance Inside the Trump Administration" and was published in September of 2018. In the op-ed, Taylor wrote that "many Trump appointees have vowed to do what we can to preserve our democratic institutions while thwarting Mr. Trump's more misguided impulses until he is out of office."
White House Press Secretary Kayleigh McEnany pushed back after Taylor revealed he was "anonymous," saying in a statement, "This low-level, disgruntled former staffer is a liar and a coward who chose anonymity over action and leaking over leading."
She added, "He was ineffective and incompetent during his time as DHS Chief of Staff."
President Donald Trump also responded, tweeting, "Who is Miles Taylor? Said he was 'anonymous', but I don't know him – never even heard of him."
However, Taylor responded on Twitter with a photo of the two in the Oval Office, writing, "That's too bad. I remember you, all too well. And I will continue shining a light on your failed presidency through the election—and beyond," as IJR reported.
Taylor has endorsed Democratic presidential nominee Joe Biden for president. There are five days left until Election Day on Nov. 3.