News
'It's Just Wrong': Chris Christie Says Asserting Trump Won the 2020 Election 'Undercuts Our Democracy'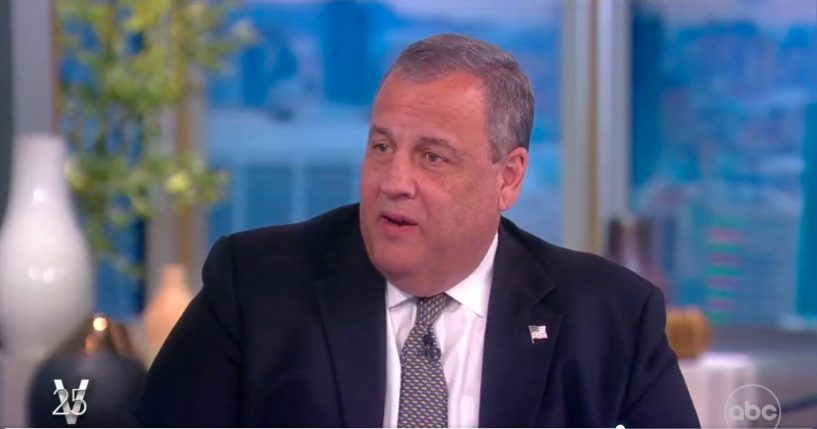 Former New Jersey Gov. Chris Christie (R) is dismissing concerns that former President Donald Trump will attack him for stating he lost the 2020 presidential election.
During an appearance on ABC's "The View" Monday, he was asked why he decided to speak out about the former president's claims of election fraud.
Co-host Joy Behar noted the former president has lobbed insults at Christie and asked, "Why turn on him now? You know, you see what happens to Republicans when they turn on Trump. They're toast."
Advertisement - story continues below
"You know, I've always been about the truth and he lost the election in 2020, and to continue to talk about it having been stolen undercuts our democracy," Christie responded.
He continued, "And if you just want to be a partisan Republican, it's not good for our party. It's not good for us to be able to present an alternative to what Joe Biden's doing if what we're doing is talking about what happened a year ago."
"So it's just wrong. And look, he took a shot at me and that's fine, that's his right to do. And I just reminded everybody, that yeah, he talked about my approval ratings and all the rest. I said, well when I ran for reelection in New Jersey I got 60% of the vote. And when he ran for reelection he lost to Joe Biden. So, you know, he wants to have that conversation, I'm happy to have it" he added.
Behar interjected to say, "He's gonna get you."
Advertisement - story continues below
"Look, I'm sure there's a few people here from New Jersey, we're hard to get. It is not nearly as easy as it may look to some people, so it's okay. And by the way, if that's a fight you gotta have, it's a fight worth having," Christie said.
Watch the video below:
Earlier this month, Christie told Republicans they were "wasting time" talking about the 2020 election and urged them to take on the Democrats in power.
Trump responded taking a shot at his approval ratings while he was governor.
Truth and Accuracy
We are committed to truth and accuracy in all of our journalism. Read our editorial standards.
Conversation