FBI Director Testifies That 'Russia Continues To Try To Influence Our Elections'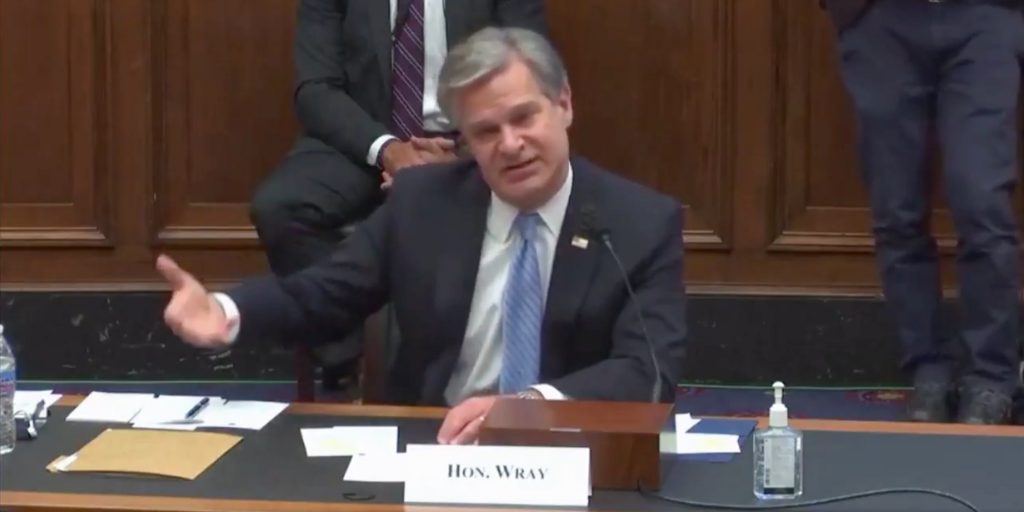 During a hearing on Capitol Hill this week, FBI Director Christopher Wray warned that Russia is continuing to try to "influence" American elections.
Wray appeared before the House Homeland Security Committee on Thursday, saying, "I think the intelligence community's consensus is that Russia continues to try to influence our elections primarily through what we could call malign foreign influence."
He said that Russia's behavior in the 2020 elections differs from 2016 in which "there was also an effort to target election infrastructure, you know cyber targeting — we have not seen that second part yet this year or this cycle. But we certainly have seen very active, very active efforts by the Russians to influence our election in 2020 through what I would call more the malign foreign influence side of things."
He said that the Russians are again using social media, state media and online proxies in their efforts to "both sow divisiveness and discord."
Wray noted that Russia's efforts are aimed at "denigrat[ing] Vice President Biden and what the Russians see as kind of an anti-Russian establishment."
FBI Dir. Chris Wray just confirmed that Russia is currently meddling in the election to 'denigrate Vice President Biden' pic.twitter.com/UCi10xklEX

— NowThis (@nowthisnews) September 17, 2020
In his role as FBI director, Wray has sometimes broken with the Trump administration, which has earned him the ire of President Donald Trump. In May, he ordered a probe into former Trump national security advisor Michael Flynn after the DOJ dropped charges against Flynn.
Flynn plead guilty to lying to the FBI about his conversations with the Russian ambassador.
Trump announced that he would nominate Wray in 2017, calling him "a man of impeccable credentials."
But the president's opinion of the FBI director has shifted after Wray defended the decision to open an investigation into associates of the 2016 Trump campaign, Wray said that it was "important that the inspector general found that, in this particular instance, the investigation was opened with appropriate predication and authorization."
Trump later blasted the FBI director on Twitter, writing, "I don't know what report current Director of the FBI Christopher Wray was reading, but it sure wasn't the one given to me. With that kind of attitude, he will never be able to fix the FBI, which is badly broken despite having some of the greatest men & women working there!"