News
NBC's Chuck Todd Declares 'Biden's Got a Pretty Big Credibility Crisis on His Hands'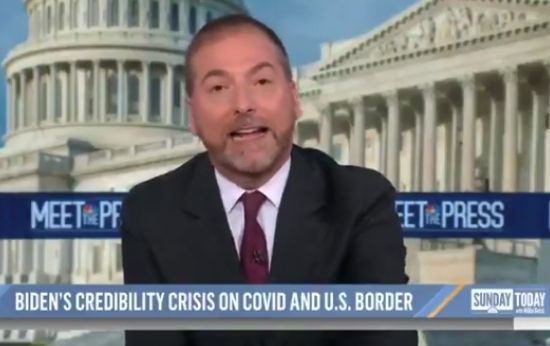 NBC's Chuck Todd believes President Joe Biden has "a lot of work to do."
Appearing on "Sunday Today," Todd weighed in on how the president is managing everything that is happening — form the border crisis, the mistaken drone strike in Afghanistan, France recalling its ambassadors to the U.S. and Australia, and the U.S. Food and Drug Administration (FDA) rejecting COVID-19 boosters for most people, MSNBC's  Willie Geist noted.
Todd said, "I think he's got a pretty big credibility crisis on his hands. Because all of these problems, in some ways, showed up after he said something basically the exact opposite."
Advertisement - story continues below
"Afghanistan withdrawal, wasn't going to be messy," he continued. "This wasn't going to look like Saigon. The booster shots, he came out and essentially said eight months, and even indicated maybe we should start it as soon as five months. Now we're not sure if anybody under 65 is going to get a booster shot."
Check out his comments below:
MSNBC's Chuck Todd: "Biden's got a pretty big credibility crisis on his hands because all of these problems in some ways showed up after he said basically the exact opposite." pic.twitter.com/8wMxHRX6PL

— RNC Research (@RNCResearch) September 19, 2021
Todd noted that the U.S. has a "bigger problem now than we've had in years" regarding the southern border.
Advertisement - story continues below
He said Biden's "got a lot of work to do," adding, "The U.N. speech, look, he's got credibility issues on the world stage to make sure people still view America as — not just a stable democracy — but a competent leader of the free world right now."
In Congress, over the next several weeks, congressional Democrats are trying to push through Biden's $3.5 trillion spending plan. The plan "combines major initiatives on the economy, education, social welfare, climate change and foreign policy, funded in large part by an extensive rewrite of the tax code, which aims to bring in trillions from corporations and the rich," as The New York Times reports.
Does Biden have "a pretty big credibility crisis on his hands"?
However, "as Democrats are increasingly seeing, the sheer weight of Mr. Biden's progressive push could cause it to collapse, leaving the party empty-handed, with the president's top priorities going unfulfilled," per the publication.
As for immigration, in July, migrant encounters at the U.S. border were at a 21-year high.
Sen. Ted Cruz (R-Texas) said last week on Twitter, "Joe Biden's policies are encouraging this staggering rush of illegal aliens."
Advertisement - story continues below
He added, "208,887 encountered in August including 103,129 single adults (up 134% from 2020), 18,847 unaccompanied children (up 507% from 2020), & 86,487 individuals in a family unit (up 3,086% from 2020)."
Truth and Accuracy
We are committed to truth and accuracy in all of our journalism. Read our editorial standards.
Conversation