'Get a Grip': Clyburn Blasts Graham for Suggesting a 'Civil War' Is 'Brewing' in Georgia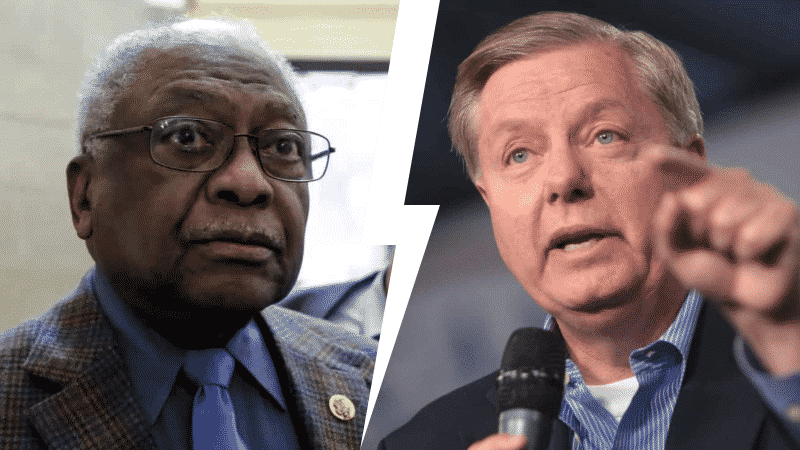 House Majority Whip Jim Clyburn (D-S.C.) is tearing into Sen. Lindsey Graham (R-S.C.) for suggesting there is a "civil war" brewing in Georgia.
Graham said during a Fox News interview on Monday evening, "There's a civil war brewing in Georgia for no good reason."
He continued, "It's not unreasonable to ask a legislature to come back in and order an audit of the signatures in the presidential race to see if the system worked," adding, "What is unreasonable is to sit on your a** and do nothing when you've got a chance to save the country."
Clyburn hit back at Graham for his remarks, saying during Wednesday's CNN "New Day" interview, "Get a grip. Get a grip. I think he's lost grip on reality."
He continued, "Yes, there's a civil war brewing, and it's just as idiosyncratic as the civil war we had before. And it just so happens to be brewing in the same part of the country that it broke out before. The result would be the same."
"This country is not going to allow this kind of activity to take place. I think that there are cooler heads [that] are prevailing," Clyburn said.
"I thought I knew Lindsey Graham, but I must have been mistaken."
Watch Clyburn's interview below:
"This is an attempt to overthrow our government … This is an attempted coup," @WhipClyburn says about President Trump's push to overturn the election result.https://t.co/brhR1EmzlA pic.twitter.com/MYAiaI0GsW

— New Day (@NewDay) December 8, 2020
Graham's spokesperson Kevin Bishop told CNN that the South Carolina senator was talking about a "GOP civil war."
Joe Biden has been declared the winner of the presidential election in Georgia three times. On Monday, Georgia's secretary of state recertified the state's results and said, "We have now counted legally cast ballots three times, and the results remain unchanged."
Clyburn also said during the CNN interview on President Donald Trump's push to overturn the election results, "This is an attempt to overthrow our government. You may not call it a coup but this is an attempted coup."