News
Clyburn: Critical Race Theory Debate a 'Red Herring'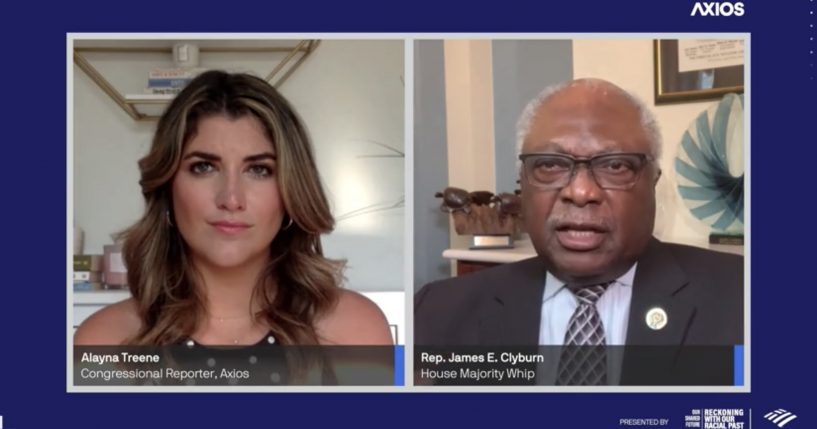 House Majority Whip Jim Clyburn (D-S.C.) argued the debate surrounding critical race theory is a "red herring."
During an Axios virtual event on Wednesday, Clyburn was asked what role white people should play in the debate over critical race theory.
"Be clear to the American people. This whole issue on race and all of this activity we see going on in elementary schools, all about critical race theory. Theory is the operative word. We do not teach theory in elementary school," Clyburn said.
Advertisement - story continues below
He continued, "Critical race theory is something at the university level. For us to continue to apply that to these elementary schools and high schools, adding to that debate around the country, I think that that's what the media ought to do. Let them know this is a red herring. This is what people are trying to use in order to spread strife."
The House majority whip went on to mention the testimony given by the police officers who defended the U.S. Capitol on January 6 Tuesday, arguing they said "stuff totally opposite than what my Republican friends have been saying as to what was going on" that day.
Clyburn explained he believes "we are missing the mark, by not explaining to the American people that this is the truth."
He added, "All the stuff that they're saying is just stuff that they're using to divide this country. Believe it or not, everybody sitting in office up here do not believe in democracy. These people believe in autocracy."
Advertisement - story continues below
Watch the video below:
WATCH: Axios' @nialaboodhoo, @russcontreras and @alaynatreene host a conversation on systemic racism in America, feat. @WhipClyburn, activist @rosaclemente, and author @michelleduster.https://t.co/EPaQ5UmiB8

— Axios (@axios) July 28, 2021
Do you think the debate around critical race theory is a "red herring?"
Several Republicans have spoken out against critical race theory. House Minority Leader Kevin McCarthy (R-Calif.) said during an interview with BlazeTV host Dave Rubin, "Critical Race Theory goes against everything Martin Luther King has ever told us, don't judge us by the color of our skin, and now they're embracing it. Right? They're going backward."
Sen. Ted Cruz (R-Texas) also introduced a bill in June to ban the federal funding of critical race theory instruction.
A statement from the senator said The END CRT Act "would prohibit federal funding for any agency or recipient of federal funding to teach Critical Race Theory (CRT) in workplace training."
Advertisement - story continues below
Cruz added, "The federal government has no right to force a political agenda onto Americans, especially one that aims to tear down our institutions and divide us based on race."
Truth and Accuracy
We are committed to truth and accuracy in all of our journalism. Read our editorial standards.
Comment Down Below
Conversation