News
CNN Anchor Shuts Down Texas State Senator's Claim of 'Hundreds of Open Cases' of Voter Fraud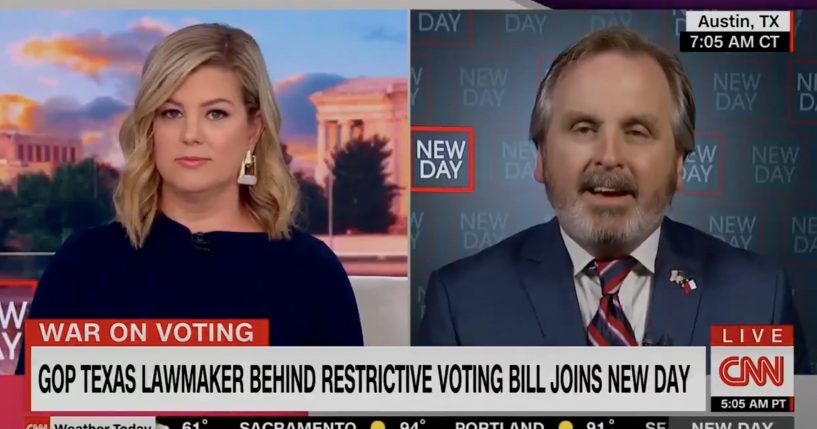 CNN's Brianna Keilar is pushing back against Texas state Sen. Bryan Hughes' (R) claim that the state has "hundreds of open cases" of voter fraud.
"They say everything is bigger in Texas, but actually, voter fraud is not. Voter fraud is minuscule in Texas. Why are you okay with suppressing voting by people of color with this bill to combat what's really a non-problem?" Keilar said during CNN's "New Day" on Wednesday.
Hughes replied, "People ask me how about the amount of voter fraud, my question is how much is OK? In my district I've got a county commissioner, elected official, under criminal indictment for mail ballot fraud, happens to be Democrat and the charges were brought by Democrats."
Advertisement - story continues below
He continued, "They happen to be African Americans. So African Americans came to us with complaints about cheating. We are responding to that."
Watch the video below:
.@brikeilarcnn fact-checks Texas State @SenBryanHughes after he claims there are "hundreds of open cases" of voter fraud in his state, which prompted him to sponsor the controversial bill that would make it harder for some residents to vote.https://t.co/GRABlPFKqP pic.twitter.com/mHeWrE57oz

— New Day (@NewDay) June 2, 2021
The Washington Post noted on Tuesday that Hughes previously mentioned the arrest of an official as an example of fraud.
Advertisement - story continues below
The outlet reported, "That official, Marlena Jackson, is a good example of the divide between the number of charges and the number of people charged."
The analysis continues, "She was indicted on 97 criminal counts centered on ballots or ballot applications for 38 voters. It's not clear if any of the ballots were cast successfully, but it is clear that none affected the outcome in 2020: The charges center on the 2018 primary election."
Keilar went on to argue there are only 43 pending voter fraud charges in Texas and only one is from 2020.
"You've previously misquoted that as … 400. It's really 43. Only one is from 2020 and there were 16 minor prosecutions for 2020, it was just people putting down addresses that weren't theirs," Keilar said.
Hughes doubled down on his claim, saying, "There are hundreds of open cases in Texas."
Advertisement - story continues below
The CNN host pushed back, "There's not … You may be talking about complaints, which anyone can file. There are not hundreds of open cases. There are 43 pending voter fraud charges in Texas. This is according to your Republican Attorney General's office."
According to the Post, the office of Texas Attorney General Ken Paxton (R) spent more than 22,000 hours investigating fraud cases in 2020. The office closed out 16 minor cases near Houston.
The publication pointed out the head of the election fraud department in Paxton's office said the number of cases of fraud was 'higher than our historical average by a long shot," amounting to "510 offenses pending against 43 defendants in court."
 A Houston Chronicle fact check noted, "Only one of those pending cases stems from the 2020 election, in which more than 11 million Texans cast ballots," as the Post reports.
Truth and Accuracy
We are committed to truth and accuracy in all of our journalism. Read our editorial standards.
Conversation