News
Watch: CNN Highlights China's Censorship of Network As It Covers Chinese Tennis Star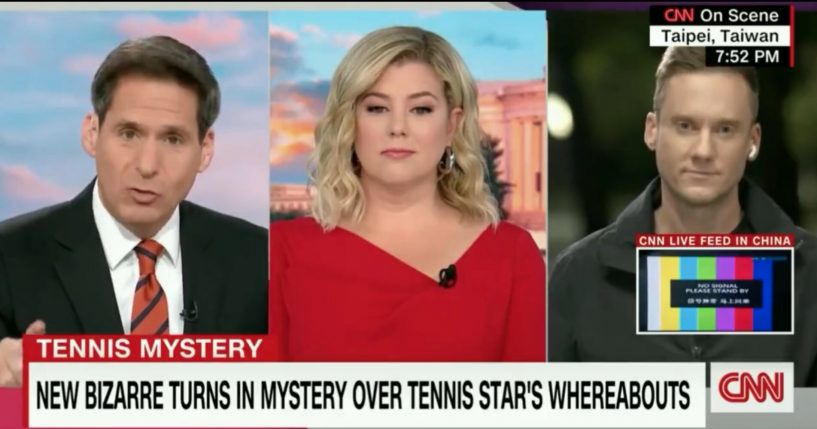 CNN's John Berman pointed out for viewers China's censorship of its feed while the network covered tennis star Peng Shuai who disappeared from public view for several days after accusing a top official of sexual assault.
During a segment on missing tennis star Peng on CNN's "New Day" Monday, Berman pointed out to viewers a box on the screen that showed colored bars.
"So Will, I want to explain to viewers what's happening on our screen right now. Because underneath your face, they can see a box which is the actual live feed of this broadcast in China, but it's all color bars. And it went to color bars the minute you started talking," Berman said.
Advertisement - story continues below
He asked, "So what's going on here?"
"Chinese censors, John," CNN's Will Ripley responded. "I lost count over the last eight years here in Asia covering China how many times CNN's coverage of controversial issues has been censored."
He continued, "It used to go to straight black. Now they've upgraded, and they go to color bars. But nonetheless, it is a live, real-time example of the censorship that's happening in the mainland. They scrubbed Peng Shuai from the internet. They're certainly not talking about this on television and even international networks."
Watch the video below:
Advertisement - story continues below
Chinese media drops CNN feed as the network airs report about missing tennis star Peng Shuai. pic.twitter.com/zYaW19oK1B

— The Recount (@therecount) November 22, 2021
The segment focused on Chinese tennis star Peng Shuai, who disappeared from public view after she accused a top Chinese official of sexual assault earlier this month.
After the allegations were made, Peng was not heard from for two weeks. However, an email was later sent out allegedly from the tennis star that said the allegations were "not true."
"I'm not missing, nor am I unsafe. I've just been resting at home, and everything is fine," the email added.
However,  Women's Tennis Association CEO Steve Simon said in a statement that the email "only raises my concerns" about the tennis star's "safety and whereabouts."
Advertisement - story continues below
"I have a hard time believing that Peng Shuai actually wrote the email we received or believes what is being attributed to her," Simon said.
On Sunday, the International Olympic Committee (IOC) said its president, Thomas Bach, held a video call with Peng.
According to the IOC, Peng said she is "safe and well, living at her home in Beijing, but would like to have her privacy respected at this time. That is why she prefers to spend her time with friends and family right now."
"In the 30-minute conversation, she was very clear in confirming that she is safe and well. She also mentioned that she will be taking part in some activities with friends and family, and will continue to be involved in tennis," the IOC said in a statement.
Truth and Accuracy
We are committed to truth and accuracy in all of our journalism. Read our editorial standards.
Comment Down Below
Conversation