News
CNN Shares Disturbing Audio of Young Student's 911 Call During Uvalde Shooting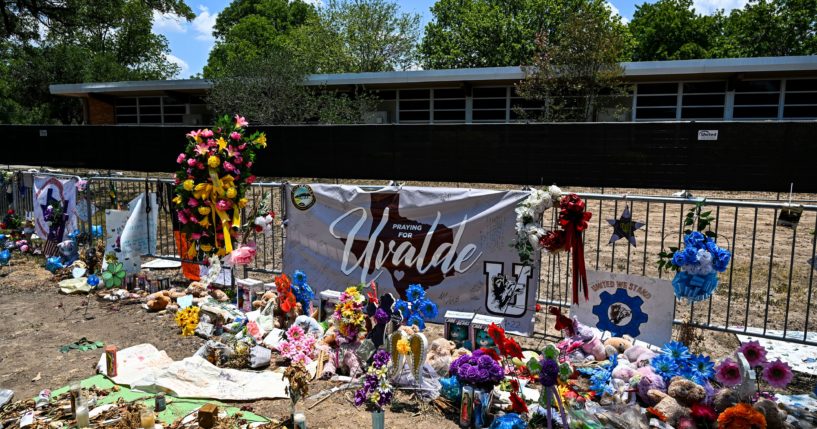 Disturbing audio of a young student's call to 911 during the shooting at Robb Elementary School in Uvalde, Texas, has been shared by CNN.
The outlet identified the student as 10-year-old Khloie Torres who survived the shooting.
"CNN has obtained the call never made public until now. A warning to our viewers: It's painful to hear. We're choosing to go play portions of the audio with the approval of Khloie's parents and because it is crucial to understanding the full scope of the law enforcement failure that day," correspondent Shimon Prokupecz explained.
Advertisement - story continues below
During the call, the dispatcher asked Torres if she was okay.
Torres replied, "No, there's a school shooting."
The dispatcher responded, "Okay, yes ma'am. I have multiple units there. Are you with officers or are you barricaded somewhere?"
Torres went on to tell the dispatcher she was located in room 112.
Advertisement - story continues below
When asked for her name, Torres said, "Khloie Torres. Please hurry. There's a lot of dead bodies."
Listen to the call below:
EXCLUSIVE: CNN has obtained new audio of a 911 call from one of the students in the Uvalde school shooting. @ShimonPro is there: pic.twitter.com/YTLHwkScc4

— CNN Early Start (@EarlyStart) November 2, 2022
After the dispatcher told Torres to stay on the line, the student asked her to "please send help."
Prokupecz explained, "You can hear injured people in the room crying out in pain. The dispatcher asks Khloie to tell her classmates to stay quiet. She does her best."
Advertisement - story continues below
Torres continued, "I am. I am. I'm telling everybody to be quiet and now nobody is listening to me. I know how to handle these situations. My dad taught me when I was a little girl. Send help. Some of my teachers are still alive but they're shot."
Later on during the call, Torres asked how far away the officers were.
The dispatcher said, "They're inside of the building, okay? You need to stay quiet, okay?"
Torres could be heard, saying, "They're inside the building. We just need to stay quiet."
Advertisement - story continues below
The CNN correspondent noted on the other side of the door the response on behalf of law enforcement was "disorganized and chaotic."
NBC News noted a report released over the summer shows more than 70 minutes went by from the time the gunman entered the school to when law enforcement officers entered a classroom to kill him.
Nineteen students and two teachers were killed in the May shooting.
Truth and Accuracy
We are committed to truth and accuracy in all of our journalism. Read our editorial standards.
Comment Down Below
Conversation