News
CNN Shares Recording of Kevin McCarthy Saying Trump Admitted to 'Some Responsibility' for Jan. 6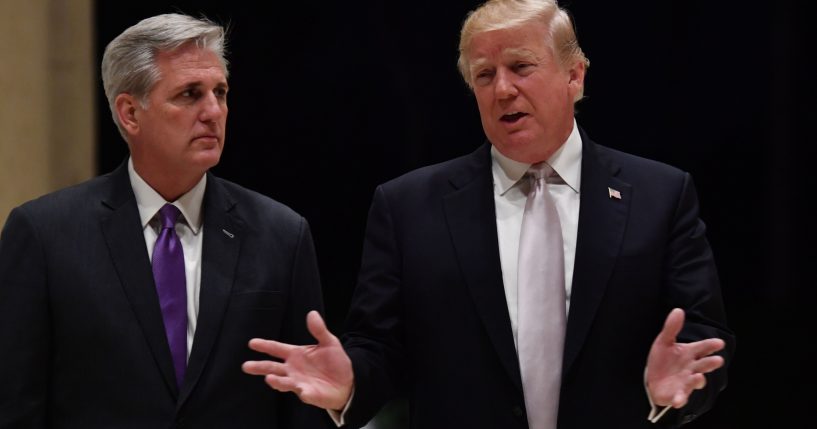 A recording of an old interview House Minority Leader Kevin McCarthy (R-Calif.) gave to radio station after the January 6 Capitol attack has resurfaced.
CNN's K-File shared the recording of McCarthy telling the radio station that former President Donald Trump took some responsibility for the attack.
"I say he has responsibility. He told me personally that he does have some responsibility. I think a lot of people do," McCarthy said.
Advertisement - story continues below
He added, "What I proposed –which I think history will say, I'm right –because it's the right thing to do, I believe. Have a bipartisan commission and get all your facts, actually work through the grand jury to find out at the end, instead of predetermining, whether someone's guilty or not."
Here's the audio of McCarthy saying Trump has responsibility for Jan. 6th and Trump admitted responsibility. He strongly urges a commission to investigate the attack.

McCarthy said Thursday he didn't recall telling members Trump took responsibility.https://t.co/fsZYL5Q1ss pic.twitter.com/T7Rwb8Yd0n

— andrew kaczynski (@KFILE) January 14, 2022
CNN noted McCarthy shared a similar story during a private conference call with House Republicans on the day before the interview.
"Let me be clear to you and I have been very clear to the President. He bears responsibility for his words and actions. No if ands or buts," McCarthy said.
Advertisement - story continues below
He added, "I asked him personally today if he holds responsibility for what happened. If he feels bad about what happened. He told me he does have some responsibility for what happened. But he needs to acknowledge that."
During the interview, McCarthy also said he told Trump to "go on national TV, tell these people to stop it."
He continued, "[Trump] said he didn't know what was happening. We went to the news then to work through that. I asked the president, he has a responsibility. You know what the President does, but you know what? All of us do."
The recording comes just days after McCarthy announced he would not cooperate with the House select committee investigating the attack.
"This committee is not conducting a legitimate investigation as Speaker [Nancy] Pelosi took the unprecedented action of rejecting the Republican members I named to serve on the committee. It is not serving any legislative purpose," McCarthy said in a statement.
Advertisement - story continues below
He went on, "The committee's only objective is to attempt to damage its political opponents — acting like the Democrat Congressional Campaign Committee one day and the DOJ the next."
Truth and Accuracy
We are committed to truth and accuracy in all of our journalism. Read our editorial standards.
Comment Down Below
Conversation