News
CNN's Brian Stelter Accuses Tucker Carlson and Fox News of 'Prolonging the Pandemic'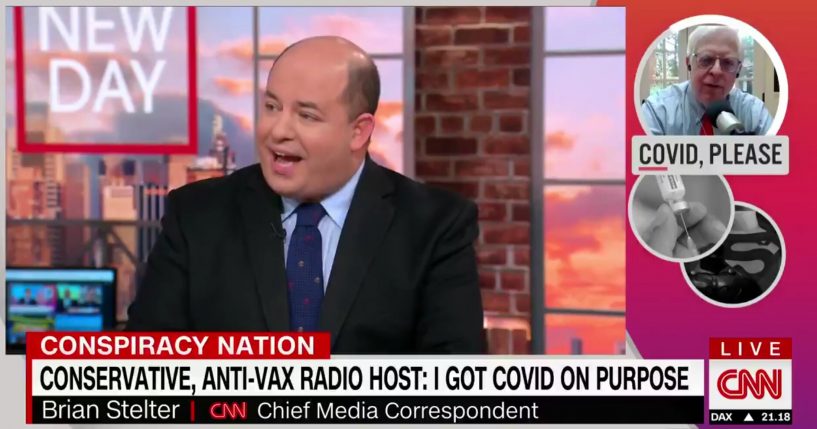 CNN's Brian Stelter claims Fox News host Tucker Carlson and the network itself are "dragging us backwards" amid the COVID-19 pandemic.
During an appearance on CNN's "New Day" Tuesday, Stelter mentioned the narrative from Carlson and Fox News surrounding former Secretary of State Colin Powell's death.
"'Well Colin Powell's death showed you there's trouble with the vaccine.' It is this day-in, day-out narrative that actually is prolonging the pandemic."
Advertisement - story continues below
He added, "It is that simple and that awful. They are prolonging the pandemic."
Host John Berman noted the only thing the media knew about Powell's death initially was that he died due to complications from the virus.
"It turned out he had multiple myeloma, Parkinson's disease, things that absolutely weaken your immune system. He was due for a booster. He couldn't get the booster because of the condition," Berman said.
Stelter responded, "Reminder, you don't always know everything right away."
Advertisement - story continues below
He added, "Took a couple hours to find out about Powell's medical history, took a couple hours to know all the facts. And the people who jumped to conclusions and make their assumptions, that's part of the problem. When you don't know everything, you shouldn't make assumptions."
Stelter acknowledged "every once in a while, there is a doctor who says the right thing" on Fox News. Still, he claimed "for the most part, it's the Tucker Carlsons of the world that get all the airtime, and they are dragging us backwards."
Are they "prolonging the pandemic"?
Watch his comments below:
"We're all in this together" has turned into "own the libs even if it prolongs the pandemic" pic.twitter.com/6FM2wrZhTo

— Brian Stelter (@brianstelter) October 19, 2021
During his show on Monday night, Carlson explained the fact that Powell died from complications due to Covid "does not make his death any less sad nor is it unusual."
Advertisement - story continues below
He continued, "Many thousands of vaccinated Americans have died of Covid."
Carlson asked, "So, what does that tell you, exactly?" adding, "Well, it tells you, you've been lied to. Vaccines may be highly useful for some people, but across a population, they do not solve Covid. That's not speculation, it is an observable fact. People who've been fully vaccinated can still get the virus, they can still transmit the virus to others, and they can still die from Covid. Colin Powell is hardly the only example of that."
Watch part of Carlson's show below:
Tucker Carlson says Colin Powell died of COVID despite being fully vaccinated, making no mention of Powell's cancer and claiming it as proof American's are "being lied to." pic.twitter.com/m08u4KlWRH

— nikki mccann screamírez 👻 (@NikkiMcR) October 19, 2021
Advertisement - story continues below
Fox News anchor John Roberts similarly suggested Powell's death raises "new concerns" about vaccine efficacy but later deleted the tweet that included the claim.
Truth and Accuracy
We are committed to truth and accuracy in all of our journalism. Read our editorial standards.
Conversation