News
CNN's Don Lemon Blasts the Unvaccinated: 'Idiots'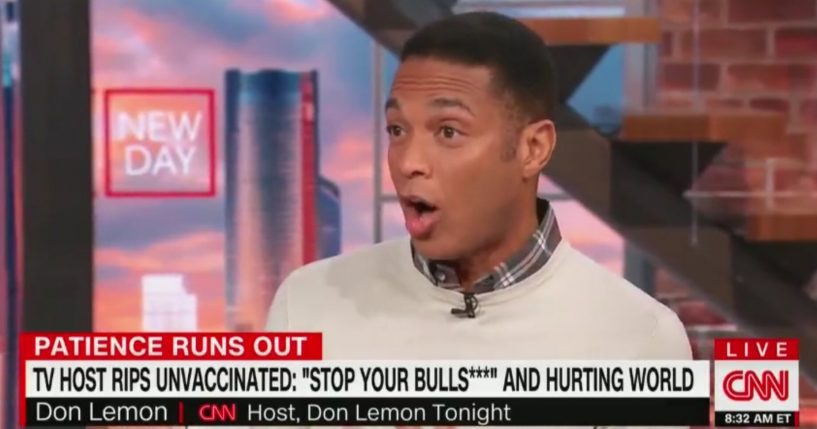 CNN's Don Lemon expressed his frustration with those who refuse to get vaccinated against COVID-19, calling them "idiots."
During an appearance on CNN's "New Day," Lemon explained, "We have to start doing things for the greater good of society and not for idiots who think that they can do their own research, or that they are above the law and they can break the rules."
He added, "Australia. Novak Djokovic. Australia said no, no, no, no, no, we're going to look at the greater good of everyone in our society, and you're not part of that. We don't care that you're the number one tennis player in the world. And good on them, because they are keeping their population and their citizens – people who want to be good citizens – they're keeping them healthy and safe and alive."
Advertisement - story continues below
"We have to start doing things for the greater good of society and not for idiots who think that they can do their own research, or that they are above the law and they can break the rules." – Don Lemon pic.twitter.com/wLUOZklmsF

— Caleb Howe (@CalebHowe) January 18, 2022
Djokovic was deported from Australia after "its required COVID-19 vaccination ended the No. 1-ranked men's tennis player's hopes of defending his Australian Open title," as Fox News reported.
Co-hosts of ABC's "The View" commented on the matter and criticized the United States for not adopting a similar approach to Australia.
"Here is the bottom line, people are not putting up with it. Countries are not putting up with it, because it means that every time you sneeze or talk, you are spreading more hassle for them. They're trying to clean their country up. They're trying to put everybody in a mask and here you come, and you think tennis needs you that badly? No, honey, no," Whoopi Goldberg said.
Advertisement - story continues below
"You know what's disappointing is, this Australian government is experiencing a surge in omicron like we are, and their government is saying, 'No you can't come in without the vaccine, you don't qualify for the exemption,' when our very Supreme Court just recently, when the Biden administration wanted to have a very similar mandate, our Supreme Court said, 'No, no thank you,'" Co-host Sunny Hostin added.
According to the U.S. Centers for Disease Control and Prevention, nearly 80% of individuals ages five and up have received at least one dose of the vaccine.
Truth and Accuracy
We are committed to truth and accuracy in all of our journalism. Read our editorial standards.
Comment Down Below
Conversation