News
Co-Hosts of 'The View' Denounce Man Who Confronted Tucker Carlson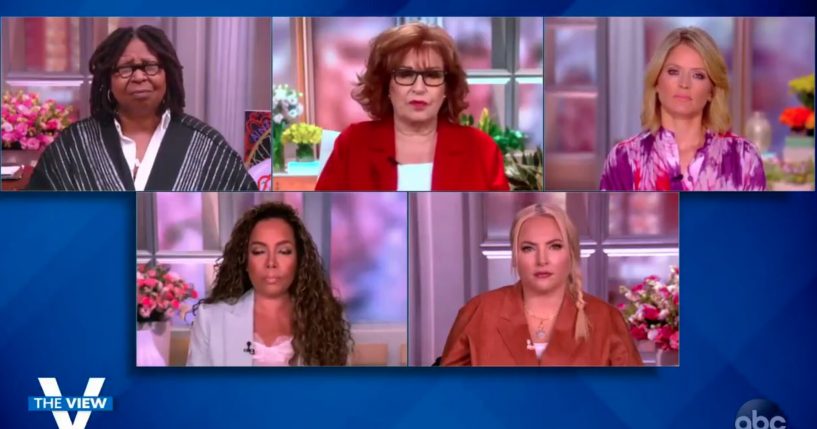 The co-hosts of ABC's "The View" denounced a man who confronted Fox News host Tucker Carlson over the weekend.
During a segment on Monday, the co-hosts discussed a video that showed a man confronting the popular host at a flyfishing shop.
Co-host Joy Behar started off by saying she disagreed with the decision to accost Carlson, as she said, "I'm against public confrontations like that especially when you are in a hostile state of mind."
Advertisement - story continues below
"If you have something to say to me, tweet it, but, you know, don't come up to me with your hostility. I don't like that," she added.
Behar also went on to note that Carlson "probably thought that he was in a safe space." However, she claimed, "When you are spewing lies that cost people their lives, actually no place is safe for him, and people like him."
Still, Behar made clear she does not have a good view of Carlson as she accused him of being "more interested in ratings and getting attention than he is in his viewers' lives."
The longtime co-host also said the man who confronted Carlson was "very very nice" and "did not become a threat. He just basically quietly said, you are the worst human being for doing what you are doing. So you can't really fault him on that end."
Advertisement - story continues below
Watch the video below:
TUCKER CARLSON CONFRONTED OVER VACCINE STANCE: The co-hosts weigh in on the viral video of the Fox News host getting confronted by a man at a Montana fishing store and called Carlson "the worst human being known to mankind." https://t.co/cVclFZQmjA pic.twitter.com/9C8RKa4Ncv

— The View (@TheView) July 26, 2021
Sunny Hostin also denounced the confrontation, "You should be safe from being accosted or being confronted, and so in that sense. I agree that something like that shouldn't happen."
However, the co-host said, "When you think about Tucker Carlson, he himself has said things, like in April of this past year. This year Tucker Carlson told his audience to harass people who wear face masks outside."
"He also said that members of the public should report parents to police and child services if they see children wearing masks as they play. He said — he called mask-wearing repulsive and said that parents forcing their children to wear masks in public should be reported for child abuse, and he also told his viewers that it was their duty to report," Hostin added.
Advertisement - story continues below
Finally, Hostin claimed she was "not surprised that he was confronted by someone that obviously viewed his show because he's encouraged that kind of behavior."
Meghan McCain defended Carlson and rejected the notion that the man who confronts the host was being nice and instead argued he was "being a total jackass and incredibly rude."
"We're living in a time when people like Steve Scalise are being shot and wounded to the point where we don't know if he's literally going to survive and now he has to walk with a cane because people aren't in control of themselves and aren't in control of their mental health and they want to take out their aggression on public figures. It was incredibly dangerous," she added.
Finally, McCain said, "Any rationalization that this is normal and should be accepted in the United States of America is not only indecent, but it's beyond the pale of any expectation of any kind of decorum in a society like the United States of America."
Advertisement - story continues below
Over the weekend a man identified as Dan Bailey confronted Carlson at a fly fishing shop and called him "the worst person in the world."
A spokesperson for the network said in a statement, "Ambushing Tucker Carlson while he is in a store with his family is totally inexcusable — no public figure should be accosted regardless of their political persuasion or beliefs simply due to the intolerance of another point of view."
Truth and Accuracy
We are committed to truth and accuracy in all of our journalism. Read our editorial standards.
Conversation