FaithTap
College Student Reconnects With Childhood Friend and Helps Him Get Released From Prison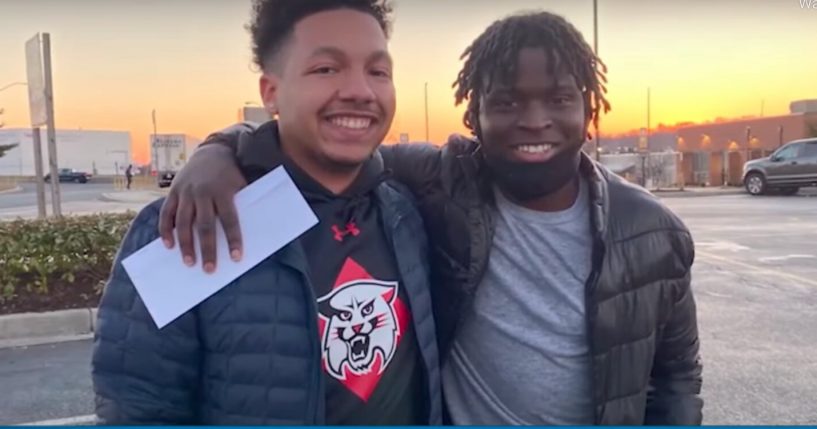 As children living in Annapolis, Maryland, Brandon Harris and Sura Sohna grew up together and were close friends. One would end up excelling in his academics and the other would commit a crime that changed the course of his life.
According to "Good Morning America," Harris "graduated from a private high school and went on to Davidson College in North Carolina, where he receives a full-tuition scholarship as a Belk Scholar, which recognizes academic achievement and leadership. He was elected student body president twice and expects to graduate this year with a bachelor's degree in philosophy."
As a young child, Sohna didn't have it easy. Sohna said he was exposed to "violence, police brutality and drugs" at a young age, also experiencing homelessness.
Advertisement - story continues below
"Growing up, I didn't really have anything. I didn't have much. I would be picked on for not having things and I felt like instead of being a victim of things, I should become a victimizer and start to do negative things. I feel like I was dealt a bad hand, but I knew right from wrong, and I made bad decision," he shared.
According to GMA, "Sohna began to have run-ins with law enforcement when he was just 12 years old when he was arrested for stealing a bike. He said a police officer and the victim of the crime told him he should spend the rest of his life in jail for stealing that bike."
In 2018, Sohna was charged as an adult for first degree-burglary after breaking into a home, as well as an additional burglary. He faced 15 years in prison for the crimes.
Miraculously, in 2020, Sohna and Harris reconnected after Harris "reached out after hearing that people in prisons were having a hard time staying safe during the COVID-19 pandemic" according to GMA.
Advertisement - story continues below
The old friends then began to exchange letters and according to GMA this interaction "led Harris to embark on an independent study project exploring the structural challenges and generational struggles that caused their different situations. Harris' project turned into advocacy, which he said led to a court hearing to reconsider Sohna's sentence."
Harris said he set out to examine his old friend's life in the "most objective way possible." He worked with a professor at his college, as well as interviewing the "victims of Sohna's crimes, arresting officers and prosecutors," and Sohna's family as well as Sohna himself.
"I said I want to do a project called 'Telling the Stories of the Ignored or Forgotten, and Sura was someone who I consider to be ignored and forgotten by society," he told ABC News.
God promises us in Deuteronomy 3:16 that "He will never leave us or forsake us," so even though Sohna may have been ignored or forgotten by society, He was not ignored or forgotten by God.
Advertisement - story continues below
Harris continued on his mission to see his friend set free.
"When I was able to get the objective research together and be able to present that and get people to recognize that, that's when we had the momentum," Harris continued. "And knowing Sura's fate–he was supposed to get out in 15 years, we were thinking that we really want to get this in court and get that sentence reconsidered."
Harris was invited to go into the court room to talk about his friendship with Sohna and and the positive changes he has made, since they started working on this project together, in January.
"The judge sort of pushed back on some of the points I was making. There's a metaphor that got used a lot in court that day, and that was 'you can take a horse to water, but you can't force them to drink. So we told the judge that Sura has drank over the past year and a half working with me, and he's ready to drink for the judge if given the opportunity," Harris shared.
Advertisement - story continues below
Because of Harris' hard work, Sohna was released from prison February 8th. This is 12 years earlier than the sentence he was originally given.
According to GMA, "Now that he's been released, Sohna said he plans to complete his GED, which he began in prison. He also hopes to go to college for film production, photography and acting, which are his passions. Harris, who was originally a pre-med student at Davidson College, now plans to go to law school to continue this kind of advocacy work."
Sohna told ABC News in an interview after his release "I'm thankful and blessed. And I'm glad to have this opportunity."
Truth and Accuracy
We are committed to truth and accuracy in all of our journalism. Read our editorial standards.
Comment Down Below
Conversation