News
Watch: College Student Removes American Flags From Site of 9/11 Memorial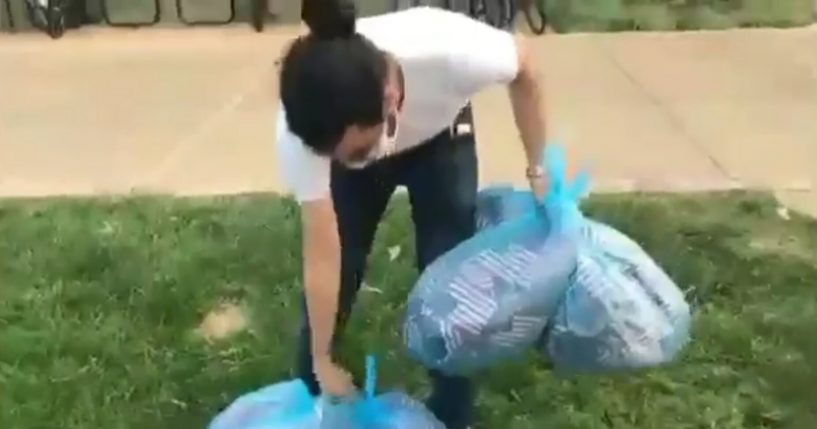 A student from Washington University was found removing American flags from a September 11 memorial.
Student Union Vice President of Finance Fadel Alkilani was caught on camera carrying the flags in bags. Young America's Foundation posted the video on Twitter.
WOW: A student senator at @WUSTL was caught on video throwing away 2,977 American flags from conservative students' 9/11: Never Forget Project memorial.

Despicable. pic.twitter.com/j6Wf1mdyLl

— YAF (@yaf) September 11, 2021
Advertisement - story continues below
The College Republicans planted the 2,977 flags as part of their memorial honoring all of the victims who lost their lives on that day 20 years ago.
Alkilani said in a statement, "The misinformation that is currently circulating on YAF's page states that I was 'stealing' the flags. This is due to a WashU College Republicans member, taking a video of me collecting flags in plastic bags. However, I had no intention of removing the flags from the Mudd Field area, and my full protest did not have the chance to be actualized."
He continued, "My planned protest was to place the bags of flags on Mudd field, along with various statistics (including those below) explaining the human cost of 9/11 in the past 20 years."
Alkilani also noted in his statement, "Since 9/11, Islamophobic hate crimes have been higher than they ever were before. The United States invaded countries in the Middle East and Central Asia, and over 900,000 people have been killed because of the wars the United States has propagated."
Advertisement - story continues below
He argued, "Any memorial of 9/11 that does not contend with these facts is not only incomplete, but it also amplifies pro-imperialist sentiment and actively disrespects those who have died because of American Invasion."
The University spoke out against Alkilani's move in a statement to the school's newspaper.
 "We were disappointed to learn about the disruption to the 9/11 display on Mudd Field. We condemn the interference with the expression of support by the College Republicans for the victims of the national tragedy that took place 20 years ago today," Vice Chancellor for Marketing and Communications Julie Flory said.
College Republicans president junior Nick Rodriguez accused Alkilani of making "a mockery of one of the most somber days in American history."
Nathaniel Hope, a sophomore at the university, filmed the incident and appeared on Fox News to discuss it.
Advertisement - story continues below
"I think his action was inappropriate and, thankfully, the school agrees with me," Hope said.
Watch his remarks below:
The conservative student who confronted the 9/11 vandal at WashU spoke to Fox News this morning about the incident:

"As an American, I was speechless," Nathaniel Hope said. pic.twitter.com/L96YaubB6s

— YAF (@yaf) September 13, 2021
He added, "As an American, I was speechless."
Truth and Accuracy
We are committed to truth and accuracy in all of our journalism. Read our editorial standards.
Comment Down Below
Conversation