Susan Collins Brushes of Censure Threat After Her Vote To Convict Trump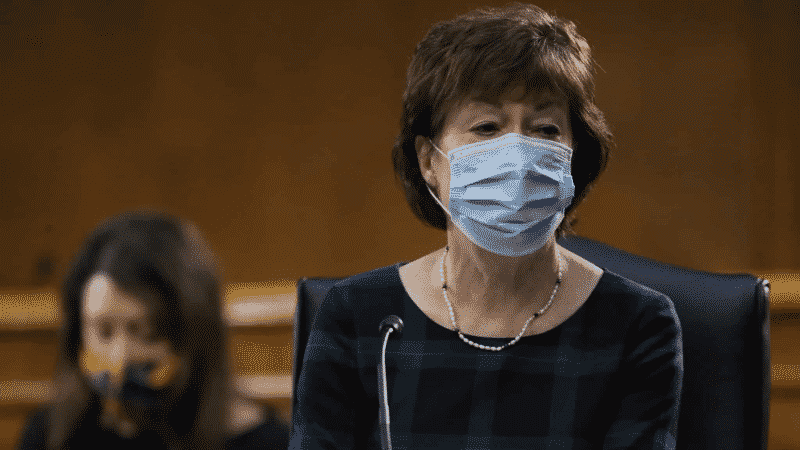 Sen. Susan Collins (R-Maine) is not worried about a potential censure from the Maine Republican Party and is defending her decision to vote to convict former President Donald Trump.
Collins said that she "carefully read the Constitution, evaluated the evidence and listened to the arguments," during an interview with WGME on Tuesday.
"And I concluded that the President did not uphold his oath to the Constitution and tried to stop the process of counting the electoral votes that is set out in the 12th Amendment. So from my perspective, that was the most egregious part of the allegations against him," she added.
When asked if it was a close call on whether or not to convict Trump, the Maine senator said, "I believe that the evidence was strong. That's not to say that the House could not have done a better job. I was critical of the House for not holding hearings. But the evidence was strong. It would have to be strong for me to conclude that the president was guilty of a high crime as specified by the Constitution."
She was also asked about reports that the Maine Republican Party was weighing whether or not to censure her for her conviction vote.
Collins said she is "not surprised given what has happened in other states." However, she said she believes her state's party has a "'big tent' philosophy."
She added:
"I'm always going to do what I think is in the best interests of the people of Maine and our country and regardless of the outcome I'm going to continue to do what I think is best."
Collins was one of seven Republicans who joined Democrats in voting to convict Trump on the charge of "incitement of insurrection," as IJR reported.
While Trump was acquitted by the Senate as there were not the required 67-votes to convict the former president, other Republican senators have been censured for their conviction votes.
Sens. Bill Cassidy (R-La.) and Richard Burr (R-N.C.), who also voted in favor of conviction, have been censured by their states' Republican parties.
Democrats alleged that by claiming for weeks that the presidential election was stolen and in remarks at a rally on Jan. 6, Trump incited the mob that stormed the U.S. Capitol.
In a speech on the Senate floor on Saturday, Collins argued that the "abuse of power and betrayal of his oath by President Trump meet the constitutional standards of high crimes and misdemeanors."
Collins did not vote to convict Trump last year on the charges of abuse of power and obstruction of Congress as she said she believed Trump "learned from this case."
"The president has been impeached. That's a pretty big lesson," she added.