News
Columnist Reveals Tucker Carlson Is the 'Best Source' for Media Outlets He Criticizes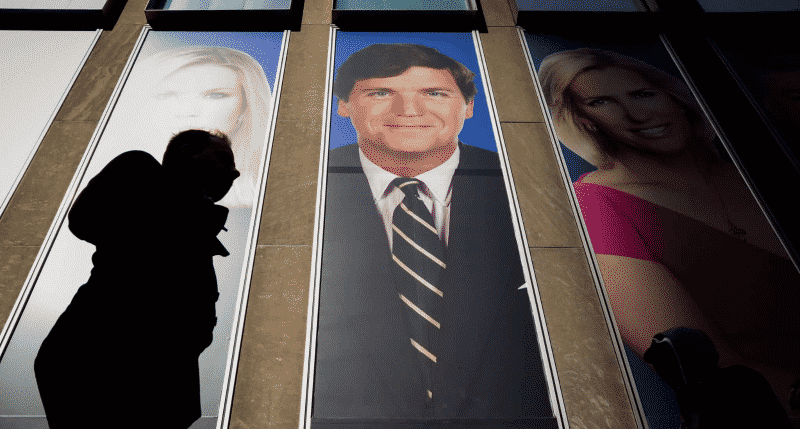 Fox News host Tucker Carlson has reportedly been a "great source" for media outlets he frequently criticizes during his show.
New York Times media columnist Ben Smith penned an article published on Sunday titled, "Tucker Carlson Calls Journalists 'Animals.' He's Also Their Best Source."
His piece explores how Carlson's relationship with other outlets has formed coverage around former President Donald Trump and the network itself.
Advertisement - story continues below
"Mr. Carlson, a proud traitor to the elite political class, spends his time when he's not denouncing the liberal media trading gossip with them. He's the go-to guy for sometimes-unflattering stories about Donald J. Trump and for coverage of the internal politics of Fox News (not to mention stories about Mr. Carlson himself)," Smith writes.
He continues, "I won't talk here about any off-the-record conversations I may have had with him. But 16 other journalists (none from The Times; it would put my colleagues in a weird position if I asked them) told me on background that he has been, as three of them put it, 'a great source.'"
Tucker Carlson has called journalists "cringing animals." Off camera, the Fox News star is often one of their valuable sources, our columnist, @benyt, writes. https://t.co/07Zwuxpncz

— The New York Times (@nytimes) June 21, 2021
Smith mentions a book written by Wall Street Journal reporter Michael Bender where he includes a moment "in which Mr. Carlson sends Mr. Trump's calls to voice mail after the first presidential debate last fall, when he was criticized for repeatedly interrupting Joe Biden."
Advertisement - story continues below
He adds, "When Mr. Trump finally reaches the Fox host, the book describes, verbatim, an exchange between the two men that casts Mr. Carlson in a flattering light. ('Everyone says I did a good job,' Mr. Trump tells Mr. Carlson. 'I don't know who told you that was good,' Mr. Carlson says. 'It was not good.')"
The columnist also noted CNN's Brian Stelter told him, "You can see Tucker's fingerprints all over the hardcover" edition of his book "Hoax," saying it "excoriates Fox News for amplifying Mr. Trump's falsehoods."
Carlson has recently received backlash for suggesting Democrats are attempting to "replace" the current electorate with "more obedient voters, from the third world."
Smith also notes the Pentagon "rebuked him for a sexist riff on women in the military."
According to several reporters who cover Carlson, his "comfortable place inside Washington media" has "taken the edge off some of the coverage."
Advertisement - story continues below
The article continues, "It has also served as a kind of insurance policy, they say, protecting him from the marginalization that ended the Fox career of his predecessor, Glenn Beck, who also drew a huge audience with shadowy theories of elite conspiracy."
Another defense Carlson has against bad publicity, according to Smith, is "his willingness to use his platform as a weapon, and to attack individual reporters, setting off waves of harassment."
When asked about his "reputation as a source of gossip and insight into the Trump administration," Carlson told Smith, "I don't know any gossip. I live in a town of 100 people." He was referring to his life in Maine.
Truth and Accuracy
We are committed to truth and accuracy in all of our journalism. Read our editorial standards.
Comment Down Below
Conversation