News
Comedian Pushes Back Against Criticism Over Appearances on Fox News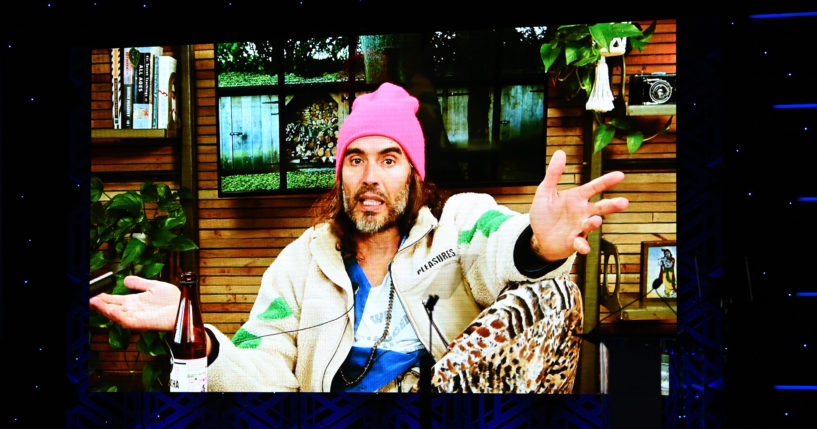 Comedian Russell Brand addressed the criticism he has received over recent appearances on Fox News.
Brand uploaded a video to his YouTube channel Tuesday titled, "So I Went On Fox News And This Happened…"
Opening the video, Brand says, "I went on Tucker Carlson and Greg Gutfeld's Fox News shows leading the neo-liberal establishment to attack me for being a right-wing conspiracy theorist."
Advertisement - story continues below
He showed a video clip of himself standing outside of the Fox News headquarters in 2014.
"We were booked on to the Sean Hannity show and then it was cancelled," Brand said at the time.
He asked, "Can I come up, have a look around, maybe have a look at the studio? Touch some stuff, meet some of the people from the Hannity show?"
Brand went on to show clips from his appearances on Fox News and commented on his conversation with Carlson.
Advertisement - story continues below
"Both of us came to it knowing that both of us would presumably disagree about a lot of issues. I broadly speaking belong to what you might call the cultural left. He's a conservative person, you might say. We were surprised in fact about how many things we agreed upon, I suppose because we both agree with individual and community freedom," Brand said.
Watch the video below:
Concluding his video, Brand explained, "The establishment media can do as many hit pieces at they want to. I'm going to continue to reach out and have conversations with people from across the political spectrum."
Advertisement - story continues below
Additionally, Brand recently had a conversation with conservative political commentator Ben Shapiro.
During his conversation with Carlson, Brand also opened up about his relationship with faith.
"Like many desperate people, I need spirituality," he said. "I need God, or I cannot cope in this world. I need to believe in the best in people."
He continued, "I need to believe that there are new alliances possible, new ways of us communicating, because I see atrophying and corrupt systems delivering yet more misery to people, and I think it's increasingly necessary that we find new ways of framing the conversation and looking into our hearts when we're speaking."
Truth and Accuracy
We are committed to truth and accuracy in all of our journalism. Read our editorial standards.
Comment Down Below
Conversation