Commentary
Conservatives' Reaction to Trump's Possible Arrest Shows How He Can Win the Nomination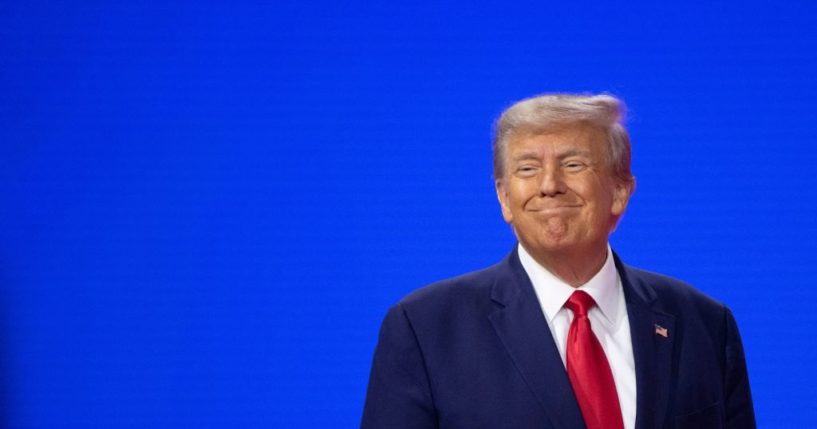 Former President Donald Trump's assertion he could soon be arrested has put pressure on Republicans to speak out about a potential indictment from a New York City grand jury.
With speculation the grand jury could indict Trump for his alleged hush money payment to adult film star Stormy Daniels swirling, Republican officials and conservative commentators have criticized Manhattan District Attorney Alvin Bragg. 
The New York Times noted the investigation "could hinge on the way Mr. Trump and his company, the Trump Organization, handled reimbursing Mr. Cohen for the payment of $130,000 to Ms. Daniels."
Advertisement - story continues below
It noted former Trump attorney Michael Cohen has said the Trump Organization falsely categorized the reimbursement as a legal expense. The crime of falsifying business records can be a felony if Bragg can show it was committed to hide another crime – in this case, a violation of election law. 
In response to reports about the potential indictment based on an untested legal theory, House Republicans accused Bragg of preparing to carry out an "unprecedented abuse of prosecutorial authority."
On its face, it may seem crazy to think a criminal indictment, or anticipated indictment, would help a candidate. But conservative commentators have whipped themselves up into believing an indictment of the former president would mean the end of our judicial system as we know it. Fox News host Tucker Carlson insisted, "America will never be the same."
Additionally, rather than addressing whether it is good to have a nominee who could be indicted for allegedly paying hush money to an adult film star, conservatives started criticizing Florida Gov. Ron DeSantis (R)
Advertisement - story continues below
Why?
Because the governor of Florida did not offer a strong enough defense of Trump – to them – and then said he does not know "what goes into paying hush money to a porn star to secure silence over some type of alleged affair."
Who do you think will win the nomination?
Now, look, DeSantis, if he wants to run for president, is going to have very carefully and skillfully thread the needle of differentiating himself from Trump without angering the former president's base or more moderate voters.
But in this case, recall, what state is DeSantis the governor of? What is he supposed to do here? He cannot shut down Bragg's investigation. He cannot investigate Bragg. And he cannot prevent Trump from being extradited – see Article IV, Section 2 of the Constitution.
So what is he supposed to do? Blindly and unwaveringly defend the person who has accused him of being a groomer and then suggested he might face some kind of sexual harassment accusation from a male?
Advertisement - story continues below
Perhaps DeSantis' comment about not knowing the inner workings of paying off a porn star was a little low. But after facing weeks of strange attacks without really responding, can you blame him?
And why should conservatives automatically and unwaveringly condemn the investigation before they even know what the charges are? Or if there even will be charges. How is that conservative?
Regardless, the conservative response to Trump's possible indictment must be going as he hoped it would.
It looked like DeSantis was on the rise after the 2022 midterm elections. However, in recent weeks, Trump seems to have started regaining strength, and at the same time, DeSantis' support appears to be waning.
Advertisement - story continues below
DeSantis will have to make a case for his candidacy if he runs, and it may turn out he cannot seal the deal. 
There is always the possibility an indictment, or flood of indictments, could finally be the straw that breaks the camel's back for voters and lead them to abandon Trump due to his legal issues.
And, yes, you want to avoid setting the precedent of simply dumping the apparent front-runner for the nomination because a prosecutor moved forward with a frivolous charge based on an untested legal theory before it has even run its course.
But if Republicans decide to turn their knives on DeSantis over his comments about Ukraine or not defending the former president fervently enough and take him out before he even enters the race, they are just giving the former president more of a runway for his campaign to take off and power through the primary to the nomination.
Advertisement - story continues below
And this is not just about DeSantis.
Whoever is seen as the leading Trump competitor is going to face criticism — some of it deserved, and some of it not. But if Republicans train their fire on the runner-up while being scared to criticize the former president, he will likely just waltz to the nomination. 
While Trump appeared to be weakened after the midterms, the last few days have shown he still has enough political weight that even the mere rumor of a charge can trigger an almost automatic response by Republicans to rush to his defense and rhetorically stab those who don't. 
Truth and Accuracy
We are committed to truth and accuracy in all of our journalism. Read our editorial standards.
Comment Down Below
Conversation