News
Crenshaw Faces Significant Fine for Refusing to Go Through Congressional Metal Detectors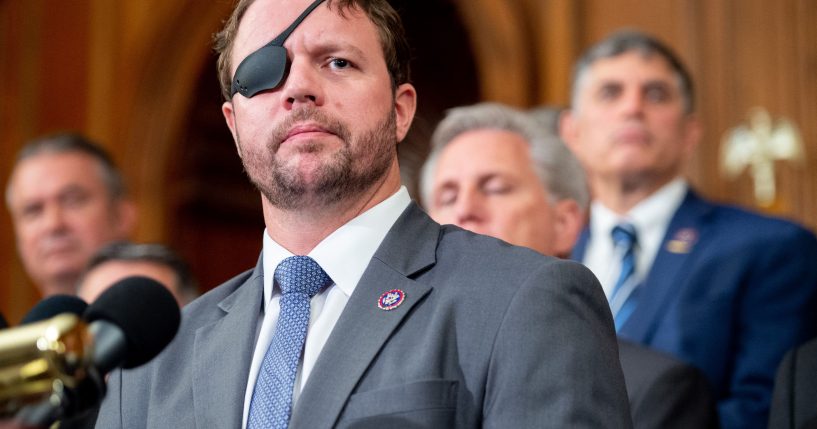 Rep. Dan Crenshaw (R-Texas) refused to go through Congressional metal detectors and is now facing a hefty fine.
The House Ethics Committee released a statement on the matter.
"On September 27, 2021, the Committee received a notification from the Office of the Sergeant at Arms that Representative Dan Crenshaw has been fined pursuant to House Resolution 73.  Pursuant to Section 1(a)(3) of House Resolution 73, the Committee hereby publishes the fine notification," the statement reads.
Advertisement - story continues below
It continues, "The Committee notes that the mandatory publication of a fine notification does not itself reflect any judgment on behalf of the Committee. Pursuant to Section 1(b)(1) of House Resolution 73, Representative Crenshaw may appeal the fine to the Committee."
The statement went on to explain, "Upon a determination regarding any appeal or if no appeal is received within 30 days of the Member's notification of the fine, the Committee will make a further public statement regarding this matter.  In order to comply with Committee Rule 7 regarding confidentiality, the Committee will refrain from making further public statements until that time."
The Sergeant at Arms, William J. Walker, penned a letter to Chairman of the Ethics Committee, Theodore E. Deutch, notifying him that Crenshaw has been fined $5,000.
In the letter, he included "the enclosure from the U.S. Capitol Police describing the failure to complete security screening."
Advertisement - story continues below
Following the January 6 riot at the U.S. Capitol, House Speaker Nancy Pelosi (D-Calif.) announced a new rule mandating fines for those refusing to follow security protocols.
"On behalf of the House, I express my deepest gratitude to the U.S. Capitol Police for the valor that they showed during the deadly insurrection on the Capitol, as they protected the lives of the staff and the Congress," Pelosi said in a press release on January 13.
She added, "Sadly, just days later, many House Republicans have disrespected our heroes by verbally abusing them and refusing to adhere to basic precautions keeping members of our Congressional community, including the Capitol Police, safe."
Pelosi said the fine for the first offense amounts to $5,000 and the fine for the second offense is $10,000.
"The fines will be deducted directly from Members' salaries by the Chief Administrative Officer. It is tragic that this step is necessary, but the Chamber of the People's House must and will be safe," the House speaker concluded.
Truth and Accuracy
We are committed to truth and accuracy in all of our journalism. Read our editorial standards.
Conversation