News
Cruz Blocks Democrats' 4am Effort To Advance Voting Rights Bill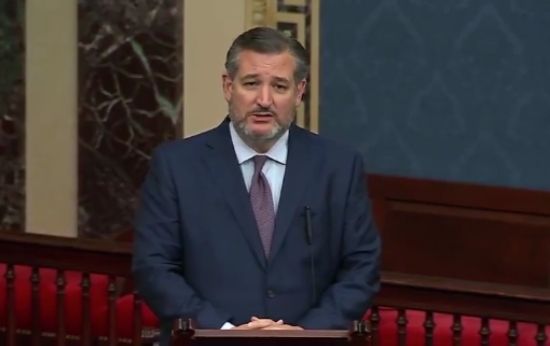 After 15 hours of amendment votes, Senate Democrats sought to advance a voting rights package. However, Sen. Ted Cruz (R-Texas) blocked it.
At 4 a.m. EST on Wednesday, Senate Majority Leader Chuck Schumer (D-N.Y.) tried advancing via unanimous consent a voting rights package, a sweeping federal elections overhaul. Cruz objected.
"This bill would constitute a federal government takeover of elections. It would constitute a massive power grab by Democrats," the Republican lawmaker said of the "For the People Act."
Advertisement - story continues below
In response to Cruz's remarks, Schumer said, "We have reached a point in this chamber where Republicans appear to oppose any measure no matter how common sense to protect voting rights and strengthen our democracy."
Senate Minority Leader Mitch McConnell (R-Ky.) also said early Wednesday, "Here we go again, colleagues. We've seen this once before. …Here in the dead of night, they also want to start tearing down the rules of our democracy and writing new ones, of course on a purely partisan basis."
See Cruz's remarks below:
🚨 🚨🚨

Early this morning, Democrats tried to push through the #CorruptPoliticiansAct, a massive power grab and federal government takeover of elections that would undermine democracy.

I objected. pic.twitter.com/o9SDIfOUtU

— Senator Ted Cruz (@SenTedCruz) August 11, 2021
Advertisement - story continues below
Schumer set up a vote for September for an election debate, which would need 10 Republican votes, along with every Democrat, to start the debate.
"Voting rights, voting rights, will be the first matter of legislative business when the Senate returns to session in September," Schumer said. "Our democracy demands no less."
Sen. Joe Manchin (D-W.V.) reiterated his opposition to the "For the People Act" early Wednesday, "I have made it crystal clear that I do not support the For the People Act. Over the past few months, I have worked to eliminate the far-reaching aspects of that bill and amend the legislation to make sure our elections are fair, accessible and secure."
Senate Republicans previously blocked the voting rights package.
Truth and Accuracy
We are committed to truth and accuracy in all of our journalism. Read our editorial standards.
Conversation