News
Cuomo Claims Report on Sexual Harassment Allegations Was Designed To Be a 'Political Firecracker'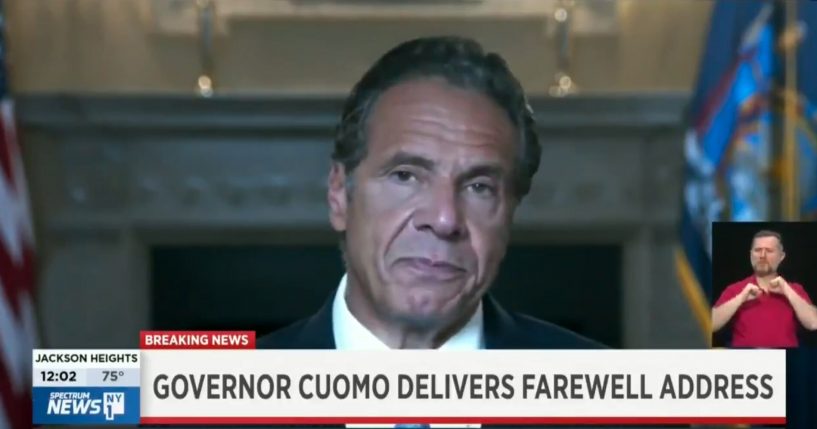 Outgoing New York Gov. Andrew Cuomo (D) is blasting a report that found he sexually harassed several women, claiming it was designed to spark a political firestorm.
During his farewell address on Monday, Cuomo said, "The attorney general's report was designed to be a political firecracker on an explosive topic."
"And it worked. There was a political and media stampede. But the truth will [come] out in time. Of that, I am confident," he continued.
Advertisement - story continues below
Cuomo said that his instinct was to "fight this because it unfair and unjust."
"But you also know that I love New York, and I serve you. That is the oath I that took. And in this moment, I believe the right thing is that my service come first. Prolonging this situation could only cause governmental paralysis, and that is just not an option for you and not an option for the state, especially now," he added.
Finally, Cuomo said, "When government politicizes allegations, and the headlines condemn without facts, you undermine the justice system. And that doesn't serve women, and it doesn't serve men or society."
Watch the video below:
Advertisement - story continues below
Andrew Cuomo farewell speech live now on @NY1. He says the Attorney General's report on his conduct was "designed to be a political firecracker." pic.twitter.com/rgyFfk1Ap2

— Pat Kiernan (@patkiernan) August 23, 2021
His remarks come after New York State Attorney General Letitia James (D) released a report that found the governor "sexually harassed a number of State employees through unwelcome and unwanted touching, as well as by making numerous offensive and sexually suggestive comments."
Cuomo has not been charged with a crime and denies that he "touched anyone inappropriately or made inappropriate sexual advances."
Still, facing bipartisan calls for his resignation and the threat of impeachment, Cuomo announced he would step down, as IJR reported.
Truth and Accuracy
We are committed to truth and accuracy in all of our journalism. Read our editorial standards.
Conversation