News
Damar Hamlin Visits Capitol Hill to Advocate for Protecting Young People in Football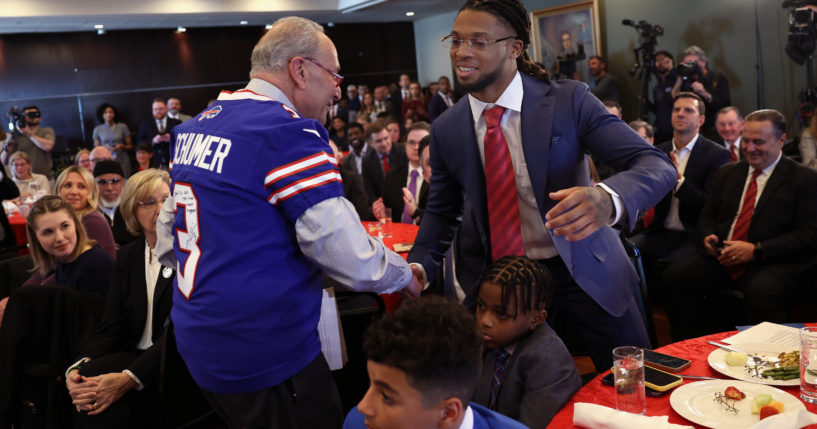 NFL player Damar Hamlin took a trip to Capitol Hill to push for protections over young players.
While speaking to lawmakers Wednesday, Hamlin said, "As I was growing up playing football, I don't recall ever thinking about CPR, or knowing where an AED was in my school or on the athletic field."
AED stands for automated external defibrillators.
Advertisement - story continues below
He added, "With my coaches on the field and my family in the stands, we didn't plan what would happen if sudden cardiac arrest happened to me, or one of my teammates."
Reflecting on the moment he suffered cardiac arrest during a game this past season, Hamlin explained, "Thankfully, the medical team with the Buffalo Bills was prepared, and they saved my life."
Hamlin shared he and his family are "so humbled and inspired by what I feel is the opportunity that God has given me to help and protect young people, based on what I experienced."
He went on to point out that "sudden cardiac arrest happens to more than 7,000 kids under the age of 18 every year in our country."
Advertisement - story continues below
Hamlin went on, "For schools that have AEDs, the survival rate for the children from sudden cardiac arrest is seven times higher."
The Buffalo Bills player noted the Access to AEDs Act will "help ensure that schools are just as prepared and trained to respond in a time of crisis as those on the sideline of an NFL game, and it will also support the purchase of AEDs for schools and help create cardiac emergency response plans."
Additionally, Hamlin argued, "Every kid should have the same access to a lifesaving emergency response that I did, should they need it."
Watch Hamlin's remarks below:
Advertisement - story continues below
The bill would give the Secretary of Health and Human Services the ability to "award grants to a local educational agency or private elementary or secondary school, partnered with a public or nonprofit private health care entity, to develop and implement a comprehensive program to promote student access to defibrillation in elementary schools and secondary schools."
Senate Majority Leader Chuck Schumer (D-N.Y.) was present at the Capitol Hill event and even wore a Hamlin jersey.
Leader @SenSchumer sporting his Damar Hamlin jersey as the Bills player is on Capitol Hill promoting new life-saving emergency response legislation. pic.twitter.com/d8V48DdZ54

— Paul Kane (@pkcapitol) March 29, 2023
After being released from the University of Cincinnati Medical Center, where Hamlin received care since the cardiac arrest during a game on Jan. 2, he was transferred to the Buffalo General Medical Center.
Advertisement - story continues below
The first responders who helped Hamlin were later recognized with a tribute video at NFL Honors.
They were then invited on stage.
Truth and Accuracy
We are committed to truth and accuracy in all of our journalism. Read our editorial standards.
Comment Down Below
Conversation