News
'I Can't Believe She Just Said That': Dan Crenshaw Reacts to Hillary Clinton's Russia Claims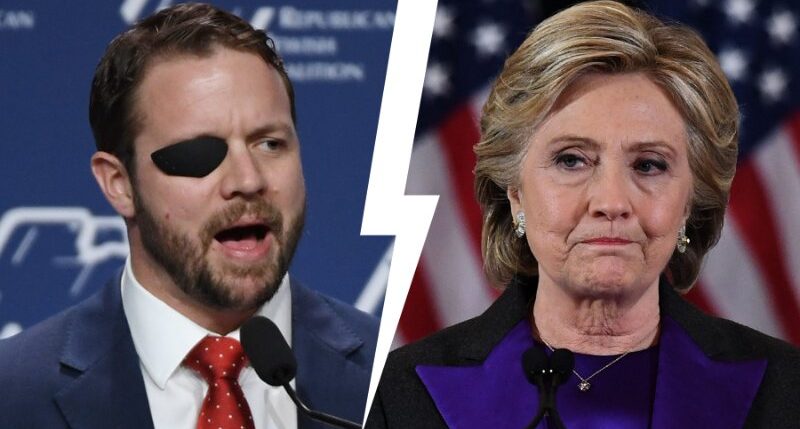 Rep. Dan Crenshaw (R-Texas) slammed former Secretary of State Hillary Clinton over her claims about Russia, saying, "Shame on her for being so partisan right now."
During an appearance on Fox News, Crenshaw reacted to comments Clinton made during an interview with MSNBC.
"President Biden had to rebuild trust and confidence," Clinton said, adding, "None of this would have been possible in the prior administration. So this is a rebuilding of our credibility, of our leverage."
Advertisement - story continues below
Crenshaw reacted, saying, "I can't believe she just said that. When you just played that clip, that's the first time I've heard it…That you're going to somehow place blame on the last administration. So let's talk about how Trump dealt with NATO and dealt with Russian aggression."
He added, "He was the one who was constantly telling our NATO allies they had to increase their defense spending. He was the one telling our NATO allies, and Germany especially, 'stop relying on Russian oil and gas…Don't ask us to be protecting you when you're relying on them for energy. Rely on us for energy.'"
Hillary is the worst. pic.twitter.com/B1xIFZHC0A

— Dan Crenshaw (@DanCrenshawTX) February 25, 2022
Crenshaw went on to ask, "But what does Germany do? They cancel import terminals. France cancels contracts with Texas LNG companies."
Advertisement - story continues below
He continued, "So there's a long history of failures here, but it is not the Trump administration. And shame on her. She knows that. Shame on her for being so partisan right now when we all need to be united with our allies against Russia. That's what needs to be happening right now."
Additionally, during Clinton's MSNBC interview, she suggested "this terrible aggression by Putin will stiffen the spines of a lot of Republicans in office who understand you cannot continue to give Trump and his enablers a blank check because they will lead us to a very bad place."
Is Clinton being "so partisan right now"?
Trump praised Putin ahead of Russia's invasion of Ukraine, as IJR reported.
"He's taking over a country for $2 worth of sanctions. I'd say that's pretty smart," Trump said.
He added, "He's taking over a country, literally a vast, vast location. A great piece of land with a lot of people and just walking right in. This would have never happened, ever in a million years, it would have never happened."
Advertisement - story continues below
On Thursday, Biden hit Russia with economic sanctions in response to his invasion of Ukraine.
Truth and Accuracy
We are committed to truth and accuracy in all of our journalism. Read our editorial standards.
Comment Down Below
Conversation