News
De Blasio Says Cuomo Should Be Criminally Charged After Report on Sexual Harassment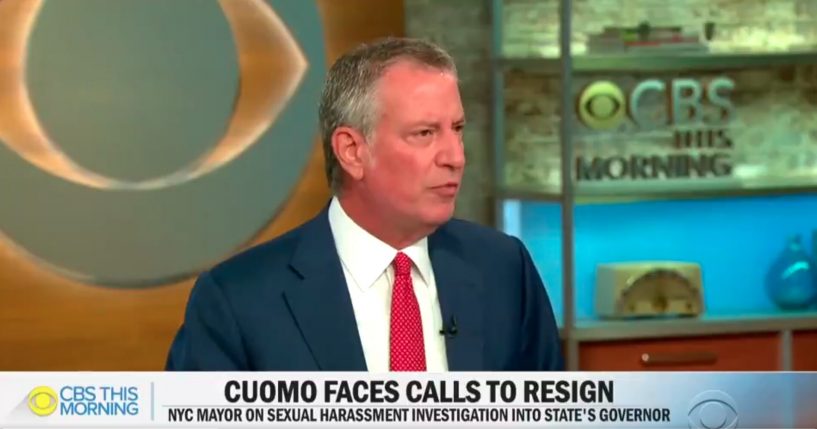 New York City Mayor Bill de Blasio (D) believes that New York Gov. Andrew Cuomo (D) should be criminally charged after a report found that he sexually harassed several women.
During an appearance on "CBS This Morning" on Wednesday, de Blasio blasted the governor's behavior detailed in the report and was asked what should happen next.
"I absolutely believe he must resign for the good of New York State and our people. If he doesn't, the clamor, which is universal at this point Democrats and Republicans saying he's gotta go, is going to win the day," the mayor responded. "If he wants to wait for impeachment, he can, but it's coming soon in our state legislature."
Advertisement - story continues below
When asked if Cuomo should be criminally charged, de Blasio said, "Yeah, if you assault a woman, you do something against her will sexually, that's criminal."
"And the Albany County District Attorney is looking at that, and I think he should be charged," he added.
Watch the video below:
WATCH: @NYCMayor Bill de Blasio discusses his reaction to Governor Cuomo's refusal to resign after a sexual harassment investigation. He also discusses the city's new vaccine mandate for indoor activities and his thoughts on a mask mandate. pic.twitter.com/Opsk2t4szX

— CBS This Morning (@CBSThisMorning) August 4, 2021
Advertisement - story continues below
De Blasio's comments come after New York Attorney General Letitia James (D) released a report that found Cuomo harassed several women.
The report read, "We have reached the conclusion that the Governor sexually harassed a number of State employees through unwelcome and unwanted touching, as well as by making numerous offensive and sexually suggestive comments. We find that such conduct was part of a pattern of behavior that extended to his interactions with others outside of State government."
Should Cuomo face criminal charges?
In a statement, James said, "This is a sad day for New York because independent investigators have concluded that Governor Cuomo sexually harassed multiple women and, in doing so, broke the law."
"I am grateful to all the women who came forward to tell their stories in painstaking detail, enabling investigators to get to the truth. No man — no matter how powerful — can be allowed to harass women or violate our human rights laws, period," she added.
The investigation into allegations of sexual harassment was civil in nature, and Cuomo has not been criminally charged. He has denied any wrongdoing.
Advertisement - story continues below
De Blasio and Cuomo have had a rather contentious relationship during their years in office. In March, the New York City mayor called for Cuomo to resign if the allegations against the governor were corroborated.
Truth and Accuracy
We are committed to truth and accuracy in all of our journalism. Read our editorial standards.
Comment Down Below
Conversation