Commentary
Dem Governor Issues 'State of Emergency' Over GOP Bill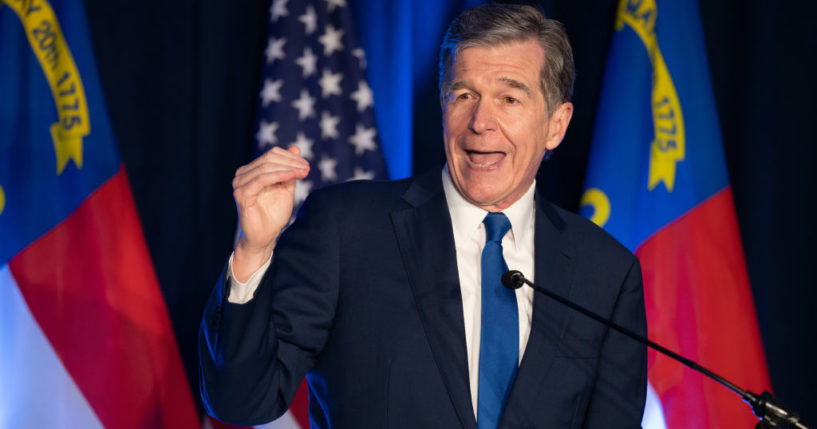 A Democratic governor is taking a drastic step in response to a Republican bill on education.
On Monday, North Carolina Gov. Roy Cooper (D) tweeted, "The GOP legislature is planning to choke the life out of public education, and you need to know what's happening."
He shared a video blasting state Republican lawmakers over their education proposals.
Advertisement - story continues below
"It's time to declare a State of Emergency for public education in North Carolina. There's no Executive Order like with a hurricane or the pandemic, but it's no less important," Cooper said.
He continued, "If you care about public schools in North Carolina, it's time to take immediate action and tell them to stop the damage that will set back our schools for a generation."
Watch the video below:
The GOP legislature is planning to choke the life out of public education, and you need to know what's happening. Watch Gov. Cooper's special address on public education. pic.twitter.com/QVkXpLhDu2

— Governor Roy Cooper (@NC_Governor) May 22, 2023
Advertisement - story continues below
Cooper ripped into Republicans' private "school voucher scheme," which he claimed "will pour your tax money into private schools that are unaccountable to the public and can decide which students they want to keep out."
"When kids leave public schools for private school, the public schools lose hundreds of millions of dollars," he added.
Do you think this is worthy of a state of emergency?
Cooper's comment references legislation designed to give equal funding to public and charter schools that Republicans introduced in April.
He also criticized the state Senate's proposed budget, which would give teachers a 4.5% raise compared to his proposed 18% raise. At the same time, Republicans want to cut the personal tax rate to 4.5%.
Additionally, the governor claimed if Republicans "get their way," the state Board of Education "will be replaced by political hacks who can dictate what is taught — and not taught — in our public schools."
Advertisement - story continues below
"Put together, these ideas spell disaster that requires emergency action. The North Carolina I know was built on support for public schools and we can't let the legislature tear them down," Cooper continued. He added, "I'm fighting back, and I need you to do it too. Public schools can survive this legislative session if we can limit the damage, but we all need to pull together to do it."
Republicans have supermajorities in both chambers so they can override a veto from Cooper.
It is not clear what the purpose of the state of emergency is except to make it look like he is fighting the "bad guys." State Senate Leader Phil Berger (R) called it a "meaningless" publicity stunt. It seems to be an attempt to cast Republicans and their proposals as extreme and dangerous, so dangerous in fact they are worthy of a state of emergency — like a hurricane or other natural disaster.
Yet this is a gross slap in the face to the voters of North Carolina. Republicans came just one seat shy of a supermajority in the General Assembly after the midterm elections.
Advertisement - story continues below
And that came as the elections were held with new maps for state House and Senate districts that were re-drawn to be more competitive. WFAE noted the maps gave Republicans an advantage, but it added, "There would be pathways for Democrats to win a majority of seats in all of the maps during a strong year for the party."
So it is not as though they won their majorities with maps that gave Democrats no chance of winning. Republicans finally won their supermajority in the General Assembly when a Democratic lawmaker switched parties.
Cooper, who cannot run for another term, is shamelessly using an emergency declaration for political reasons to further the image nationally of Republican lawmakers and their voters as a bunch of extremists. The immediate political risks for him are low, while the reward of looking like a fighter against crazy Republicans is high.
Truth and Accuracy
We are committed to truth and accuracy in all of our journalism. Read our editorial standards.
Comment Down Below
Conversation