News
Watch: Dem Senate Nominee Appears to Suggest There Should Be No Limits on Abortion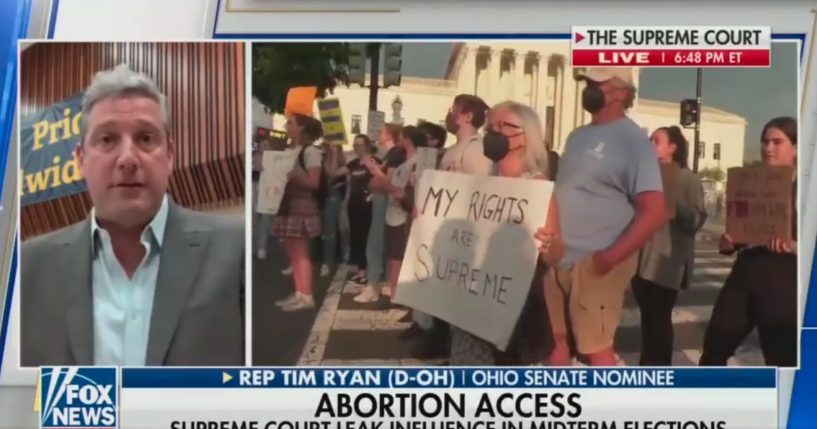 Democratic Ohio Senate nominee Tim Ryan appears to believe that there should be no restrictions on abortion.
During an interview on Fox News' "Special Report," host Bret Baier asked the Senate hopeful, "As senator, would you have any limits on abortion?"
"Look, I think what we had established with Roe is something that we can continue to work with. And I think those can be the parameters," Ryan began.
Advertisement - story continues below
He continued, "But then again, if you get rid of what was established law — which in many ways was conservative to keep that to appreciate stare decisis  and make sure we appreciate the law — you're going to get states like Ohio that have some of the most extreme laws in the whole country."
Ryan pointed out that Ohio's abortion law does not provide an exception for rape or incest and argued that it is "not a fundamental value."
Watch the video below:
Ohio Democratic senatorial candidate Tim Ryan tells Fox's @BretBaier that there shouldn't be a limit on how late in a pregnancy that a woman could kill her baby #OHSen pic.twitter.com/RDEcPXFcQJ

— Curtis Houck (@CurtisHouck) May 4, 2022
Advertisement - story continues below
However, Baier interjected, "I get all that."
"But my question was about any limits, at any point. You know, late-term, anything?" Baier added.
Do you think there should be an limits on abortion?
Ryan responded, "Look, you gotta leave it up to the woman because you and I…"
"So no, is the answer," Baier said.
Ryan responded, "You and I can't account for all of the different scenarios that a woman dealing with the complexities of a pregnancy [is] going through."
Advertisement - story continues below
"How can you and I figure that out?" he asked.
Ryan, a sitting House member, won the Democratic primary for Ohio's Senate seat on Tuesday.
According to a recent poll from The Washington Post/ABC News, a majority of Americans believe abortion should be legal in all or most cases.
The exchange comes after a leaked draft opinion from the Supreme Court appeared to show it is poised to overturn the landmark abortion case Roe v. Wade.
Truth and Accuracy
We are committed to truth and accuracy in all of our journalism. Read our editorial standards.
Comment Down Below
Conversation