News
Poll Finds Most Americans Support Access to Abortion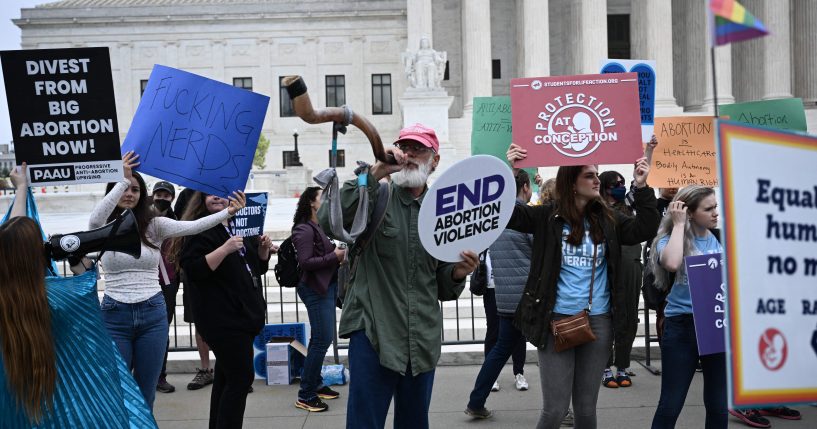 The majority of Americans believe Roe v. Wade should be upheld by the Supreme Court, according to a poll.
The ABC News/Washington Post poll was published just one day after Politico released a report showing the Supreme Court is expected to overturn the decision.
Fifty-seven percent of Americans say there should be a ban on abortion after 15 weeks.
Advertisement - story continues below
Fifty-eight percent believe abortion should be legal in all or most cases.
According to the poll, 54% say the decision should be upheld while 28% believe it should be overturned.
Seven in 10 think the decision to have an abortion should be left between the woman and her doctor.
Twenty-four percent of Americans believe abortion should be regulated by law.
Advertisement - story continues below
The poll was conducted between April 24 to 28 and surveyed 1,004 adults.
Check out the poll below:
Should the court overturn Roe v. Wade?
BREAKING: A majority of Americans support upholding Roe v. Wade, say abortion should be legal in all or most cases and see abortion as a decision to be made by a woman and her doctor, not by lawmakers, according to new @ABC News/WaPo poll. https://t.co/rgDHNk8PCU pic.twitter.com/q4GJ1QoDX3

— ABC News (@ABC) May 3, 2022
The leak of the Supreme Court's draft opinion sparked a variety of reactions from lawmakers and others, including Planned Parenthood, as IJR reported.
"This leaked opinion is horrifying and unprecedented, and it confirms our worst fears: that the Supreme Court is prepared to end the constitutional right to abortion by overturning Roe v. Wade," Alexis McGill Johnson, president and CEO of Planned Parenthood Federation of America, said in a statement.
Advertisement - story continues below
She continued, "While we have seen the writing on the wall for decades, it is no less devastating, and comes just as anti-abortion rights groups unveil their ultimate plan to ban abortion nationwide."
On Tuesday, Chief Justice John Roberts ordered the Marshal of the Court to investigate the leak of the ruling, as IJR reported.
President Joe Biden was asked if he thinks the leak "has irreparably changed the court."
He responded, "Well, you know, if this decision holds, it's really a radical decision."
Advertisement - story continues below
Biden continued, "The underlying premise — and again I've not had a chance to thoroughly go into the decision — but it basically says all the decisions relating to your private life — who you marry, whether or not you decide to conceive a child or not, whether or not you can have an abortion, a range of other decisions, how you raise your child — what does this do."
He asked, "Does this mean that in Florida, they can decide they're going to pass a law saying that same-sex marriage is not permissible? It's against the law in Florida. So, it's a fundamental shift in American jurisprudence."
Truth and Accuracy
We are committed to truth and accuracy in all of our journalism. Read our editorial standards.
Comment Down Below
Conversation