Dem Senators Share 'Very Good News' in Push for Biden To Forgive $50k in Student Loan Debt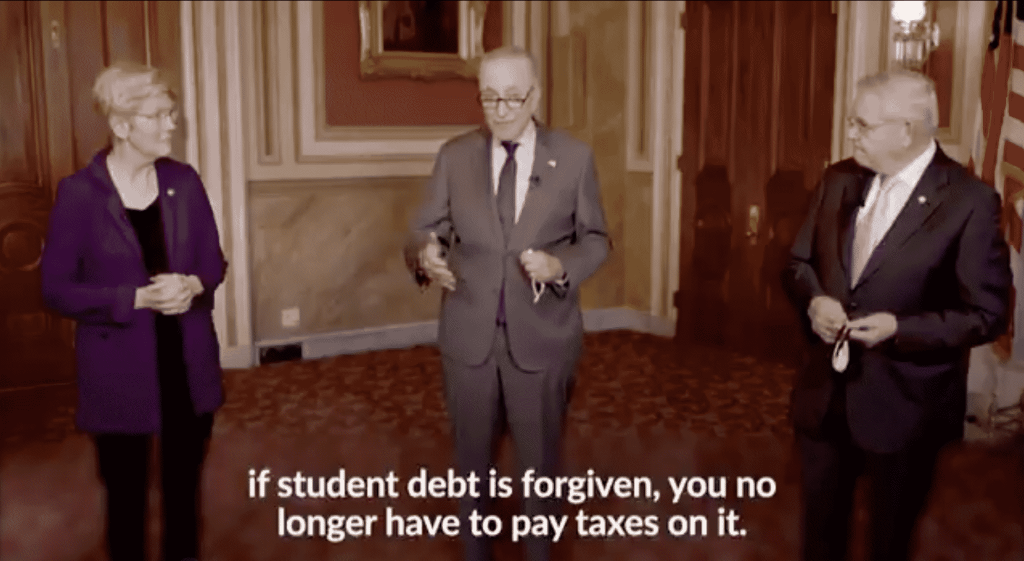 A group of Democratic senators is touting a provision of President Joe Biden's $1.9 trillion COVID-19 relief package that is related to student debt relief.
Sens. Chuck Schumer (D-N.Y.), Elizabeth Warren (D-Mass.), and Bob Menendez (D-N.J.), touted on Monday a provision that was inserted into the massive spending package that eliminated the tax penalty associated with student loan relief.
"We have very good news for so many people who have student debt, a load of student debt, on their shoulders," Schumer said. 
He continued, "The good news is this, we've made another good step forward on our progress. Sens. Warren and Menendez authored an amendment that said if student debt is forgiven, you no longer have to pay taxes on it. You used to have to pay taxes on it, and that was no good."
Watch the video below:
Sen. Elizabeth Warren: "Now we're just ready for President Biden to sign the piece of paper to say cancel $50,000 worth of student loan debt." pic.twitter.com/QGZPkvlxRO

— The Hill (@thehill) March 30, 2021
Menendez said the provision is a "big deal" as senators push Biden to forgive up to $50,000 of student loan debt per borrower. 
He noted that previously, the Internal Revenue Service (IRS) would require borrowers to pay roughly $2,200 per $10,000 of loan debt that was forgiven.
"So, if you get a $30,000 relief, all of a sudden you would have gotten hit with a $6,000 tax bill from the IRS. Based upon the legislation that is now law, that the leader helped us with, we now guarantee that no student who gets relief ultimately gets a tax bill," he added.
Warren claimed that "this is our moment of momentum" on student loan relief and. She added, "Now we're just ready for President Biden to sign the piece of paper to say cancel $50,000 worth of student loan debt."
"And when he does that, he will close the racial wealth gap between Blacks and whites who have student loan debt by 25 points, between Latinos and others by 25 points. There's not a single thing he could do on his own in one fell swoop to make that kind of difference," she argued.
Warren and Schumer have been pushing Biden to cancel up to $50,000 in federal student loan debt through executive action.
Biden has said he is "prepared" to cancel up to $10,000 in student loan debt. However, he stated that he is not prepared to cancel up to $50,000, as IJR reported.
He also said he does not believe he has the authority to unilaterally cancel student loan debt.