News
Denver Post Shares 911 Call From Lauren Boebert's Neighbors Involving Her Husband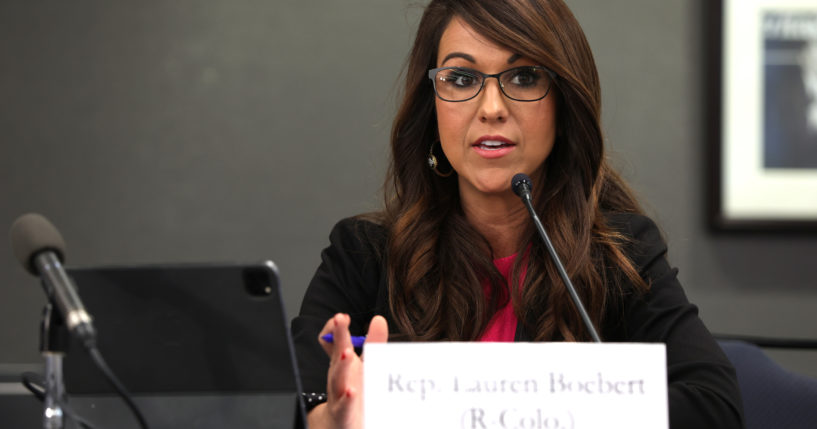 A 911 call placed over the weekend by Rep. Lauren Boebert's (R-Colo.) neighbors was published by The Denver Post.
The neighbors made the call after reportedly receiving threats from Boebert's husband.
"It's Lauren Boebert's jackass husband, Jayson," one neighbor could be heard saying on the call.
Advertisement - story continues below
He then could be heard yelling at Jayson Boebert, "Stop, you jackass! Get the f— out of here. Come on, man. What are you doing? What did we do wrong?"
The neighbor later called the congresswoman's husband "as dumb as a post."
He then suggested Jayson Boebert "is probably drunk," adding, "You could probably get him for a DUI, he just drove down here."
As the call went on, the neighbor asked the 911 operator if she knew who Lauren Boebert was.
Advertisement - story continues below
"She's loaded. They all have guns," he said.
In a separate call from another neighbor, she told the 911 operator there were teenagers racing up and down the street in a dune buggy.
"It's the Boeberts, if you know who the Boeberts are," she said. "I need the sheriff out here."
Another person could be heard in the background saying, "Our wonderful congresswoman."
According to the one neighbor, "He's going like 50 miles an hour and this is a residential lane, there's kids. We tried to stop him and he'd just freakin' cuss at us and just left."
Advertisement - story continues below
Listen to the audio below:
The Post reported that deputies eventually arrived at the scene and Sheriff Lou Vallario told the outlet everyone "agreed to work it out as neighbors. No charges. No further action."
Advertisement - story continues below
In 2004, Jayson Boebert was arrested for allegedly exposing his penis to two women.
He later pleaded guilty to public indecency and lewd exposure.
Truth and Accuracy
We are committed to truth and accuracy in all of our journalism. Read our editorial standards.
Comment Down Below
Conversation