News
DeSantis Plans to Offer VIP Access to Inauguration Celebration for up to $1 Million: Report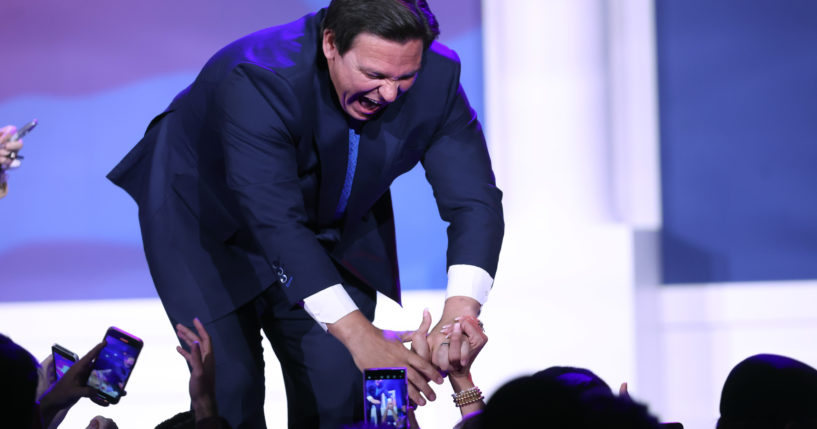 Florida Gov. Ron DeSantis (R) is reportedly expected to offer VIP access to his inauguration celebration to the tune of up to $1 million.
According to Politico, the celebration is expected to take place over the course of two days.
Additionally, it will give donors VIP access if they are willing to contribute between $50,000 and $1 million, as Politico reported, citing a breakdown of sponsorship packages.
Advertisement - story continues below
The outlet noted five donors who donate $1 million to the Republican Party of Florida will be acknowledged as "inaugural chair" sponsors.
They will reportedly receive tickets to a "candlelight dinner the night before the inauguration, VIP seating at the inauguration ceremony held on the steps of the Old Capitol as well (as) tickets to the inaugural ball and a 'Toast to One Million Mamas,' the campaign group put together by first lady Casey DeSantis, and a photo opportunity with the governor," as Politico explained.
Other packages, ranging from $500,000 to $25,000, grant access to several of the same events but donors will not be given as many tickets.
Politico noted DeSantis' next term will begin on January 3.
Advertisement - story continues below
The report comes the same day it was reported that DeSantis was declared one of the 10 finalists for Time magazine's Person of the Year.
The governor won big in the midterms over Democratic opponent Charlie Crist.
Would you pay that much for VIP access?
Last month, DeSantis appeared to remind Americans the United States just had an election amid speculation around his potential 2024 run for the White House.
"I mean, seriously, we just ran an election. We have this Georgia runoff coming, which is very important for Republicans to win that Georgia runoff. I mean, I know around the country, Florida was kind of the biggest bright spot. It was not so bright in many other parts of the country. It was a substandard performance given the dynamics that are at play," DeSantis said at the time.
He added, "But I think what people like me who have been given the opportunity to continue is — OK, let's do something with that. And the reason why we want historic victory is, at the end of the day, we led, we delivered and we had your back when you needed us. That is why we won big."
Truth and Accuracy
We are committed to truth and accuracy in all of our journalism. Read our editorial standards.
Comment Down Below
Conversation