News
DeSantis Suing Biden Over Canadian Drug Importation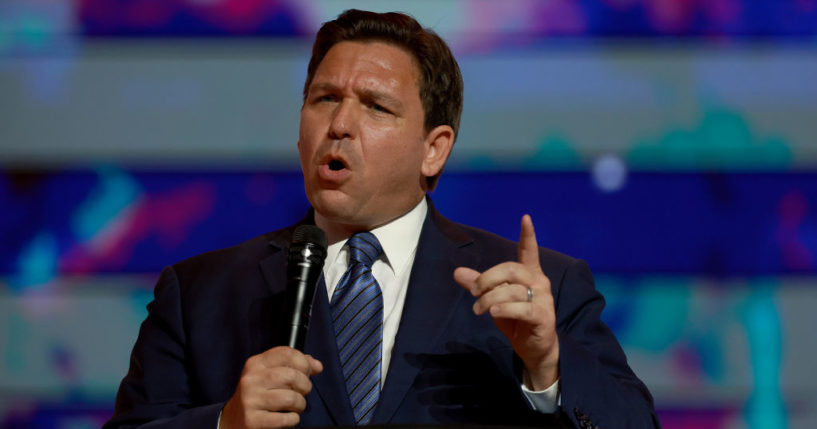 Florida Gov. Ron DeSantis (R) is suing the Biden administration over his state's application to import medication from Canada.
The governor worked with former President Donald Trump in an attempt to receive authorization for the plan, but the application submitted to the Food and Drug Administration (FDA) has yet to be approved, according to POLITICO.
DeSantis's plan to import prescription drugs would save Floridians an estimated $150 million per year, and is something the DeSantis administration has been pursuing since November of 2020.
Advertisement - story continues below
FDA Commissioner Robert Califf has sidestepped questions about when Florida's application might be approved and according to Simone Marstiller, secretary for the Florida Agency for Health Care Administration, the state has been waiting far too long.
Marstill said on Wednesday that she attempted to obtain an update from the FDA after waiting 500 days for their application to be approved, and since that time another 100 days have gone by without word about its status.
"This has been sitting on someone's desk for 600 days," Marstiller said. "This is not what government is supposed to do."
According to DeSantis, he had hoped that Biden's backing in the form of an executive order from last summer would persuade the FDA to finally accept the state's application.
Advertisement - story continues below
However, the Florida governor said that the state was forced to file a lawsuit because the federal agency took little further action: "I didn't anticipate getting to this point where even the administration says they support it and then we just toil for months and months."
The state's program for importing Canadian prescription medications is intended to save money for the taxpayers by acquiring less expensive medications for Medicaid and other state-funded healthcare programs, according to POLITICO's report.
Marstiller stated that her organization is already giving a multi-billion dollar contract procurement process with the health insurers that will be covering the majority of the state's 5.4 million Medicaid enrollees more scrutiny.
"We're not going to pay these prices to the pharmaceutical companies," Marstiller said. "We're done."
Truth and Accuracy
We are committed to truth and accuracy in all of our journalism. Read our editorial standards.
Comment Down Below
Conversation