News
Leaked Video Shows Disney Executive Producer Talking About Pushing a 'Not-at-All-Secret Gay Agenda'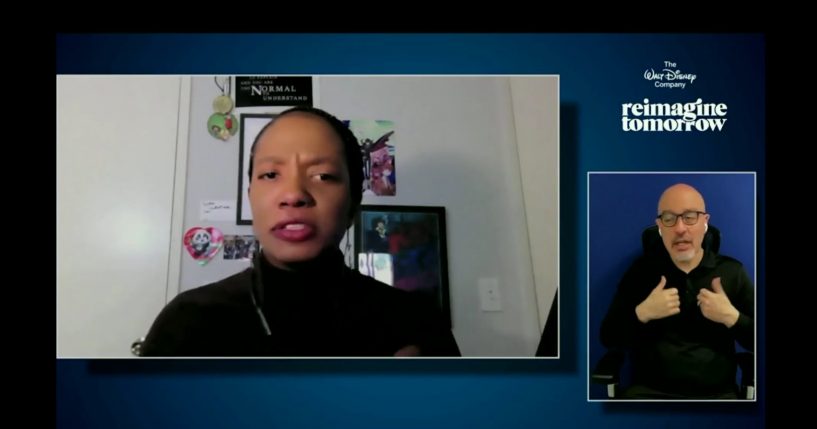 Executive producer for Disney Television Animation Latoya Raveneau is not holding back on efforts to incorporate LGBTQ storylines in the company's content.
Journalist Christopher Rufo obtained a leaked video of a Disney staff meeting during which they apparently discuss what critics call the "Don't Say Gay" bill.
"In my little pocket of Proud Family Disney TVA, the showrunners were super welcoming . . . to my not-at-all-secret gay agenda," Raveneau said during the meeting.
Advertisement - story continues below
She added, "Maybe it was that way in the past, but I guess something must have happened . . . and then like all that momentum that I felt, that sense of 'I don't have to be afraid to have these two characters kiss in the background.'"
Raveneau continued, "I was just, wherever I could, adding queerness…No one would stop me, and no one was trying to stop me."
Watch the video below:
SCOOP: I've obtained video from inside Disney's all-hands meeting about the Florida parental rights bill, in which executive producer Latoya Raveneau says her team has implemented a "not-at-all-secret gay agenda" and is regularly "adding queerness" to children's programming. pic.twitter.com/eJnZMpKIXT

— Christopher F. Rufo ⚔️ (@realchrisrufo) March 29, 2022
Advertisement - story continues below
Florida Gov. Ron DeSantis (R) signed the bill, formally known as the Parental Rights in Education bill, on Monday.
"We will make sure that parents can send their kids to school to get an education, not an indoctrination," DeSantis said.
As USA Today notes, the bill prohibits instruction on sexual orientation or gender identity in kindergarten through third grade.
Disney issued a statement after DeSantis signed the bill, saying it "should never have passed and should never have been signed into law."
The statement continues, "Our goal as a company is for this law to be repealed by the legislature or struck down in the courts, and we remain committed to supporting the national and state organizations working to achieve that."
Advertisement - story continues below
DeSantis fired back at the company during a press conference at the state Capitol.
"I think they crossed the line," DeSantis said. "We're going to make sure we're fighting back when people are threatening our parents and threatening our kids."
Truth and Accuracy
We are committed to truth and accuracy in all of our journalism. Read our editorial standards.
Comment Down Below
Conversation